This Week in SABR: December 23, 2021
Welcome to "This Week in SABR!" Click here to view this week's newsletter on the web. Please note: The SABR office will be closed for the holidays on Friday, December 24 and 31. The next newsletter will be sent on Friday, January 7, 2022. Here's what we've been up to as of December 23, 2021:
---
(Click image to enlarge)
---
This holiday season, it's easy to share that passion for the game with friends and family. If you're looking for a great gift for the baseball fan in your life, how about a SABR Gift Membership?
All baseball fans are welcome to join SABR.
Click here to learn more about how to sign up a family member or friend with a SABR Gift Membership in our latest Membership Benefit Spotlight video.
Visit SABR.org/gift-membership to learn more.
---
Early registration is now open for the SABR Virtual Analytics Conference, which will be held over three days in online sessions from March 18-20, 2022. We'll bring together the top minds in the baseball analytics community to discuss, debate, and share insightful ways to analyze and examine the great game of baseball. Register today to join us!
The Virtual Analytics Conference schedule consists of research presentations and guest speakers from throughout the baseball analytics community, career development sessions led by experienced sports professionals, and industry networking opportunities — all available online for any aspiring front office executive or baseball fan to attend from the comfort of home. Students will have opportunities for skill acquisition and development, including sessions on how to work with baseball-related data sets as well as databasing and SQL.
Stay tuned for more information on speakers, panelists, and presenters soon! Visit SABR.org/analytics to learn more.
---
With generous funding from The Anthony A. Yoseloff Foundation, Inc., SABR will award up to six scholarships to high school and college students who wish to attend the SABR Virtual Analytics Conference on March 18-20, 2022. This scholarship will pay for all registration fees and expenses associated with the conference.
All applications must be postmarked or e-mailed to Leslie Heaphy at lheaphy@kent.edu no later than December 31, 2021.
Click here to learn more at SABR.org.
---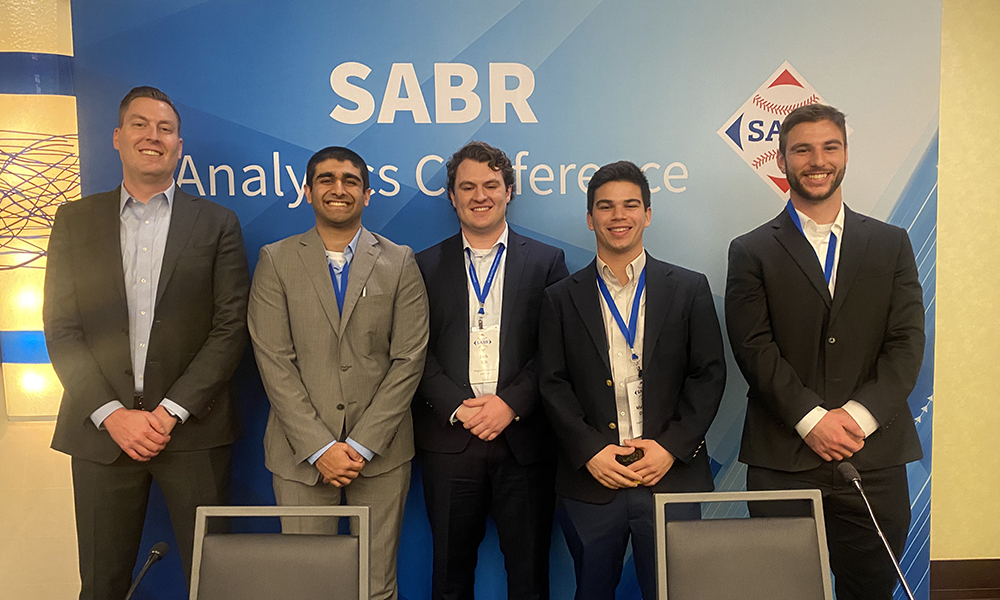 The 2022 Diamond Dollars Case Competition will be held online beginning at 11:30 a.m. ET on Friday, March 18, 2022, as part of the SABR Virtual Analytics Conference. Four- to five-person student teams are asked to evaluate a baseball operations case problem. The student team presents their analysis and recommendations to a panel of judges that includes MLB front office executives.
Visit SABR.org/analytics/case to learn more.
---
Longtime SABR Rocky Mountain Chapter president Paul Parker was honored for his 25 years of service to the chapter at their holiday social on Dec. 15 at the Blake Street Tavern in Denver.
Parker, along with past presidents Matthew Repplinger and Chip Atkison, who helped organize the chapter in 1991, were recognized for their time, energy, leadership, and insight in setting a high standard among all SABR regional groups, remaining active, vibrant, and helping to welcome in new members each year.
Learn more about the Rocky Mountain Chapter at RMSABR.org.
All SABR members can sign up for email announcements from any chapter, research committee, or chartered community. Click here to learn more.
---
We're now seeking applications for a new full-time position as Membership Services Manager to lead SABR's membership service efforts, including new member on-boarding, member communications, and membership transactions. As our Membership Services Manager, you will be responsible for membership retention and helping chapters develop their membership. An integral part of ensuring the success of our baseball community, this position will help drive SABR's future growth and support the organization's vision.
Please send resume and cover letter to CEO Scott Bush at sbush@sabr.org. Applications will be accepted on a rolling basis until the position is filled.
Click here to read the full announcement at SABR.org.
---
While we continue to celebrate SABR's 50th anniversary this year, we are keeping a keen eye on our organization's future and have so many exciting projects on deck. In 2022, we will deliver the SABR Local Grants program. This initiative will provide an opportunity for chapters, research committees, and chartered communities to apply for funding for their projects under SABR's Four Pillars: Research, Scholarship, Preservation, and Future of the Game. In total, $10,000 in SABR Local Grants will be awarded in 2022!
All SABR chapters, chartered communities, and research committees are now eligible to apply, until January 30, 2022. Individual SABR members and non-SABR groups are not eligible, so if you have an individual idea for a program grant, please follow up with your local chapter leadership or appropriate research committee to discuss an application.
Click here to read the full announcement at SABR.org.
---
SABR's 50th year has been a historic one. We have commemorated our history and looked forward to our shared vision of the organization's future. As 2021 comes to a close, we need your support to BRING IT HOME and ensure that vision turns into a reality.
Gifts from members like you are integral to SABR's existence and we are hopeful you will consider a donation to sustain and grow our wonderful baseball community.
You can support SABR's Bring it Home Campaign by making a gift of at least $100 by December 31, 2021. We will use your best gift of $100, $300, $500, or $1,000 to boost initiatives in several key areas of SABR's mission:
Research: continued support for groundbreaking baseball-related research, books, articles, and new member resources
Scholarship: furthering the reach and impact of SABR's world-class committees, chapters, and conferences
Preservation: committing to preserve, honor, and commemorate baseball history
Future of the Game: improving SABR's ability to engage with a younger and more diverse constituency, including high school and college students, through baseball research
Visit SABR.org/donate/2021 to learn more.
---
SABR chapters and committees are encouraged to set up virtual meetings to stay engaged with our members throughout the world at SABR.org, as part of our Stay Home With SABR initiative to assist in limiting the spread of the COVID-19 coronavirus pandemic.
Video Replays: This week, we heard from Jim Kaat, new Hall of Fame inductee and former major-league pitcher. Click here to view more video replays of virtual SABR events.
Here are some more upcoming virtual events you can attend online; check the Events Calendar for complete details:
December 27: Elysian Fields (NJ) Chapter meeting with with Perry Barber and Peter Golenbock (7:00 p.m. EST)
January 5: Baltimore Babe Ruth Chapter meeting with Dan Joseph (7:00 p.m. EST)
January 6: Boston Chapter meeting with Bill Ryczek (8:00 p.m. EST)
January 8: John Thorn: "Two-Platoon Baseball: Faceless Heroes in the Age of Substitution" (3:00 p.m. EST)
In addition, the following events will be held in person:
January 5: Bob Broeg St. Louis Chapter fellowship meeting (Ladue, MO)
January 8: Rogers Hornsby Chapter Annual Winter Meeting (San Marcos, TX)
January 8: Halsey Hall Chapter Hot Stove Saturday Morning (Minneapolis, MN)
Find more upcoming SABR meetings on our Events Calendar page.
---
Baseball fans, tune in this season to SABRcast with Rob Neyer, a weekly podcast hosted by award-winning author and longtime SABR member Rob Neyer.
Episode #142 on Monday, December 20 featured Kyle Schultz, founder of Major League Wiffle Ball, which began in 2009 and has grown into an 8-team league based out of Brighton, Michigan, as well as a tournament circuit in Michigan, Texas, Ohio, New York, Massachusetts, and Illinois. MLW's YouTube channel has more than 250,000 subscribers and 40 million views as of 2021, and has been featured on ESPN's SportsCenter, TBS, and MLB Network. Schultz is a 2021 graduate of the University of Michigan's sport management program.
Visit SABR.org/sabrcast to listen to the full episode.
Subscribe to SABRcast on your favorite podcast networks, including Apple Podcasts, Amazon Music, Spotify, or Stitcher, and listen to each episode as soon as it's released on Mondays. To learn more, visit SABR.org/sabrcast.
---
Six new biographies were posted this week as part of the SABR Baseball Biography Project. Here are the new bios published this week:
All new biographies can be found here: SABR.org/bioproject
Find any SABR biography: You can visit sabr.org/bioproject to search for any player — or manager, executive, scout, spouse, broadcaster, or umpire — who appears in the SABR BioProject. In addition, we have pages for Ballparks, Broadcasters, Executives, Games, Managers, Scouts, Spouses, Umpires, Writers, people who were Famous Outside Baseball, and a lot more.
---
Nine new game stories were posted this week as part of the SABR Games Project. Here are the new game stories:
New Games Project stories can be found at SABR.org/gamesproject.
Get involved: Have memories of a game you attended? Or a game you watched that caught your interest? Write about it! Writing for the Games Project is an easy way to get involved as a SABR member. Find out how by reading the Games Project FAQs section or checking out the Authors' Guidelines. We have editors and fact checkers who are willing to help you write your first article.
Social media: Follow the SABR Games Project on Twitter or Facebook to keep up with new stories and updates.
Read more from Baseball's Biggest Blowout Games online: In 2020, the SABR Digital Library published Baseball's Biggest Blowout Games, edited by Bill Nowlin, with more than 125 accounts of the most lopsided games in major-league baseball history, including postseason games and the top four for all 30 MLB franchises. All of the stories from the Blowouts book can now be found online as part of the SABR Games Project.
---
Behind the Numbers: Baseball SABR Style on SiriusXM, a radio show hosted by former SABR Board President Vince Gennaro, is back at a new time. Listen to new episodes at 4:00-5:00 p.m. ET on Saturdays on MLB Network Radio.
You can also listen to archives of recent episodes on-demand on the SiriusXM Internet Radio app.
Behind the Numbers: Baseball SABR Style on SiriusXM focuses on examining and interpreting the statistical analysis that plays a critical role in baseball today. It airs weekly throughout the year on MLB Network Radio, available to subscribers nationwide on XM channel 89, Sirius channel 209, and on the SiriusXM Internet Radio App.
---
Please note: Only ONE entry per nomination will be considered (do not submit multiple nominations for the same award). For more information on SABR Awards, click here.
---
In Memoriam: Mark Pankin
Mark D. Pankin, 76, died on Friday, December 17 after suffering a heart attack while on a bicycle ride near his home in Alexandria, Virginia. Mark served for 30 years as the first and only webmaster of Retrosheet.org and was an award-winning presenter at many SABR chapter meetings and national conventions since joining the organization in 1975. Retrosheet president David W. Smith says, "He was extremely conscientious in maintaining and updating the many different pages on the Retrosheet site and he was in the front line to field questions and complaints, which he always handled flawlessly. It is hard to imagine the website without his guiding hand." In high school Mark was awarded a letter in baseball as the team's equipment manager and unofficial statistician. Later he earned a Ph.D. in mathematics from the University of Illinois, Chicago. Combining the two interests, he developed mathematical models for analysis of baseball strategies and batting order optimization while teaching math at Marshall University, developing mathematical and statistical models for Mathtech Inc., and later working as an investment advisor. He was proud of his Virginia license plate: "NO DH." Visitation was held on Thursday, December 23 with a graveside service at Oakwood Cemetery in Falls Church, Virginia. In lieu of flowers, memorial contributions may be made to the Washington Area Bicyclist Association or the Goodwin House Foundation.
---
Here are some major headlines from recent weeks that we don't want you to miss:
All previous editions of This Week in SABR can be found here: SABR.org/this-week-in-sabr-archives.
---
We'd like to welcome all of our new SABR members who have joined this week. You can find all Members-Only resources at members.sabr.org and the Membership Handbook can be downloaded here.
Please give these new members a warm welcome and help them make the most of their membership by giving them the opportunity to get involved in their local chapter or a research committee.
You can find contact information for any SABR member in the online Membership Directory.
| Name | Hometown |   |   | Name | Hometown |
| --- | --- | --- | --- | --- | --- |
| Steve Clar | Sioux City, IA | | | Michael Miller | Cranston, RI |
| Mason DeCamillis | Winston-Salem, NC | | | David Richey | Roswell, GA |
| Mike Garcia | San Diego, CA | | | Jim Ritvalsky | Philadelphia, PA |
| Steve Hermanos | Sausalito, CA | | | Eve Rosenbaum | Bethesda, MD |
| Stephen Howerton | Lexington, SC | | | Michael Scott | O'Fallon, IL |
| William Jenkins | Bellaire, TX | | | Noah Smock | Baltimore, MD |
| Kyle Kelly | Houston, TX | | | Steve Vest | Frankfort, KY |
| Jacob Kempinski | Milwaukee, WI | | | Pete Weber | Antioch, TN |
---
Here are the new research committee updates this week:
Find all SABR research committee newsletters at SABR.org/research/committees.
---
Here are the new regional chapter and chartered community updates this week:
Visit SABR.org/chapters for more information on SABR regional chapters.
---
Here are some recent articles published by and about SABR members:
Please note: Some articles may require a separate subscription to view online. SABR does not endorse, and is not responsible or liable for, any content that appears on a third-party website.
---
This Week in SABR is compiled by Jacob Pomrenke. If you would like us to include an upcoming event, article or any other information in "This Week in SABR," e-mail jpomrenke@sabr.org.
Have trouble reading this e-mail? Click here to view this week's newsletter on the web.
Are you receiving our e-mails? "This Week in SABR" goes out by e-mail to all members on Friday afternoons. If they're not showing up, try adding "sabr.notes@sabr.org" to your contact list to ensure they show up in your inbox (and not the spam folder.)
---
Originally published: December 23, 2021. Last Updated: December 23, 2021.
https://sabr.org/wp-content/uploads/2020/06/SABR-LatestNews-TWIS-2016.jpg
250
847
sabr
/wp-content/uploads/2020/02/sabr_logo.png
sabr
2021-12-23 13:32:32
2021-12-23 15:47:28
This Week in SABR: December 23, 2021