This Week in SABR: December 17, 2021
Welcome to "This Week in SABR!" Click here to view this week's newsletter on the web. Here's what we've been up to as of December 17, 2021:
---
Ten years ago this month, the SABR Digital Library launched a new publishing program with our first title: Can He Play? A Look at Baseball Scouts and Their Profession, edited by Jim Sandoval and Bill Nowlin. This original book on baseball scouts collected the contributions of 26 SABR members with biographies and historical essays on the men and women who have scoured the world to discover and sign the best baseball players.
Since December 2011, under the leadership of Publications Director Cecilia Tan, the SABR Digital Library has published 85 baseball books on subjects as wide-ranging and diverse as umpires, Cuban baseball legends, and the 1969 Miracle Mets.
One of the many benefits of becoming a SABR member is that any member can download — for free — each and every one of our Digital Library titles as e-book editions, or save 50% off the purchase of the paperback editions.
Several of the books in the Digital Library are re-publications of earlier books, titles that SABR itself had previously published or were in collaboration with other publishers such as Maple Street Press and Rounder Books, including The Fenway Project (2013); Go-Go to Glory: The 1959 Chicago White Sox (2019); and Green Cathedrals (2020). Work went into updating and offering those books again. But the lion's share of the books are brand-new projects created by SABR members over the past 10 years, including:
More than 975 SABR members have contributed to a SABR Digital Library publication over the past decade, as authors, editors, fact-checkers, designers, or in other valuable roles. Want to get involved? Click here to learn more about our publishing opportunities for SABR members.
You can find all of our Digital Library titles, including our newest books, Baltimore Baseball and One-Hit Wonders, at SABR.org/ebooks.
---
When longtime SABR member Roland Hemond was honored by the National Baseball Hall of Fame in 2011 with the Buck O'Neil Lifetime Achievement Award, Hemond memorably unveiled a long list of names that stretched across half the stage — all the people he wished to thank for his success. The list of people who could give thanks to him was exponentially longer. During Hemond's seven decades in the game, there was hardly a single person working in baseball whose life and career was not influenced in some way by the soft-spoken front-office executive and ambassador who never forgot a name.
Hemond drafted Hank Aaron's first contract when he was the assistant farm director for the Milwaukee Braves; as general manager of the Chicago White Sox, he tabbed Tony La Russa for his first managerial job; and he was a key architect in building the expansion Los Angeles Angels and Arizona Diamondbacks from scratch, nearly 40 years apart. As a three-time recipient of MLB's Executive of the Year Award (1972, '83, and '89), Hemond established innovations in front-office strategy as the game moved into the free-agency era and beyond. He was also the creator of the successful Arizona Fall League, baseball's "graduate school" for top prospects in the minors.
The "family tree" of executives hired or mentored by Hemond included some of baseball's most successful and significant figures: David Dombrowski, Walt Jocketty, Doug Melvin, Derrick Hall, Dan Evans, Joe Garagiola Jr., Ken Williams, Tim Purpura, and Bill Smith Jr.; plus Jerry Krause, who first worked under Hemond as a White Sox scout before switching sports to build one of basketball's most dominant dynasties as general manager of the NBA's Chicago Bulls.
Through it all, Hemond was a man of enduring kindness and integrity, always willing to lend a helping hand or offer advice to anyone who asked for his respected guidance. He died at age 92 of natural causes on Sunday, December 12, survived by his wife, Margo; five children, Susan, Tere, Robert, Jay, and Ryan, four grandchildren; and baseball friends and protégés in every organization.
Click here to read the full article at SABR.org.
---
This holiday season, it's easy to share that passion for the game with friends and family. If you're looking for a great gift for the baseball fan in your life, how about a SABR Gift Membership?
All baseball fans are welcome to join SABR.
Click here to learn more about how to sign up a family member or friend with a SABR Gift Membership in our latest Membership Benefit Spotlight video.
Visit SABR.org/gift-membership to learn more.
---
In the summer of 1987, SABR placed a grave marker at the previously unmarked grave of John W. Jackson, known in the baseball world as Bud Fowler.
Fowler was a Black baseball pioneer who played, managed, and promoted teams during the late 19th century. The dedication ceremony at Oak View Cemetery in Frankfort, New York — about 30 miles north of Cooperstown — drew a crowd of more than 200 people, including Negro Leagues veterans Buck O'Neil, Monte Irvin, Larry Kimbrough, Bill Cash, and Gene Benson.
SABR founder Bob Davids published a 12-page booklet on Fowler's life and career, which was handed out to all attendees. John Thorn and Lloyd Johnson recently uncovered a copy of the booklet, and we have now republished it online at SABR.org.
Fowler and O'Neil were both posthumously elected to the Baseball Hall of Fame on December 5 as part of the Class of 2022.
---
Early registration is now open for the SABR Virtual Analytics Conference, which will be held over three days in online sessions from March 18-20, 2022. We'll bring together the top minds in the baseball analytics community to discuss, debate, and share insightful ways to analyze and examine the great game of baseball. Register today to join us!
The Virtual Analytics Conference schedule consists of research presentations and guest speakers from throughout the baseball analytics community, career development sessions led by experienced sports professionals, and industry networking opportunities — all available online for any aspiring front office executive or baseball fan to attend from the comfort of home. Students will have opportunities for skill acquisition and development, including sessions on how to work with baseball-related data sets as well as databasing and SQL.
Stay tuned for more information on speakers, panelists, and presenters soon! Visit SABR.org/analytics to learn more.
---
With generous funding from The Anthony A. Yoseloff Foundation, Inc., SABR will award up to six scholarships to high school and college students who wish to attend the SABR Virtual Analytics Conference on March 18-20, 2022. This scholarship will pay for all registration fees and expenses associated with the conference.
All applications must be postmarked or e-mailed to Leslie Heaphy at lheaphy@kent.edu no later than December 31, 2021.
Click here to learn more at SABR.org.
---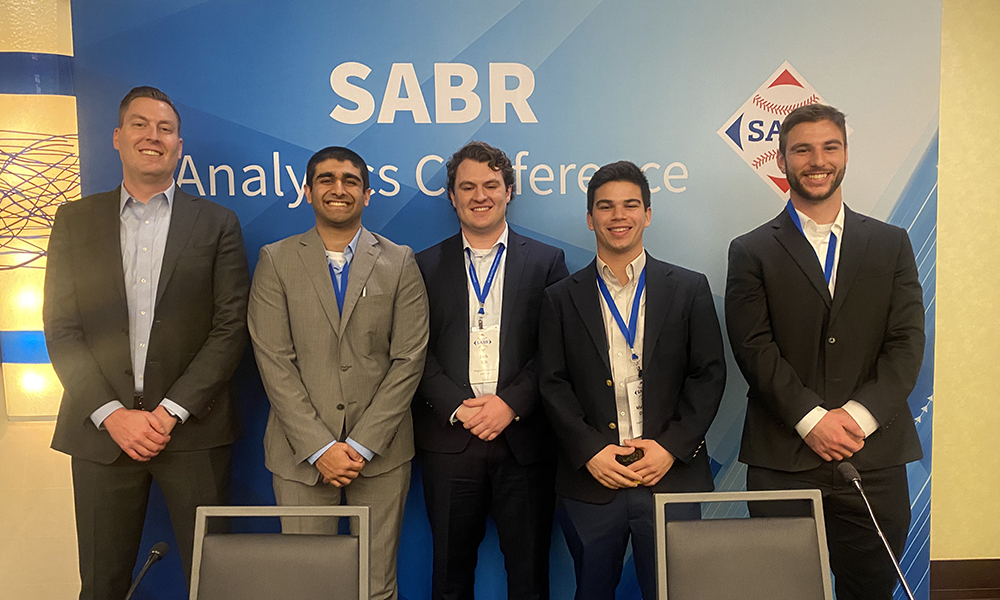 The 2022 Diamond Dollars Case Competition will be held online beginning at 11:30 a.m. ET on Friday, March 18, 2022, as part of the SABR Virtual Analytics Conference. Four- to five-person student teams are asked to evaluate a baseball operations case problem. The student team presents their analysis and recommendations to a panel of judges that includes MLB front office executives.
Visit SABR.org/analytics/case to learn more.
---
We're now seeking applications for a new full-time position as Membership Services Manager to lead SABR's membership service efforts, including new member on-boarding, member communications, and membership transactions. As our Membership Services Manager, you will be responsible for membership retention and helping chapters develop their membership. An integral part of ensuring the success of our baseball community, this position will help drive SABR's future growth and support the organization's vision.
Please send resume and cover letter to CEO Scott Bush at sbush@sabr.org. Applications will be accepted on a rolling basis until the position is filled.
Click here to read the full announcement at SABR.org.
---
While we continue to celebrate SABR's 50th anniversary this year, we are keeping a keen eye on our organization's future and have so many exciting projects on deck. In 2022, we will deliver the SABR Local Grants program. This initiative will provide an opportunity for chapters, research committees, and chartered communities to apply for funding for their projects under SABR's Four Pillars: Research, Scholarship, Preservation, and Future of the Game. In total, $10,000 in SABR Local Grants will be awarded in 2022!
All SABR chapters, chartered communities, and research committees are now eligible to apply, until January 30, 2022. Individual SABR members and non-SABR groups are not eligible, so if you have an individual idea for a program grant, please follow up with your local chapter leadership or appropriate research committee to discuss an application.
Click here to read the full announcement at SABR.org.
---
SABR's 50th year has been a historic one. We have commemorated our history and looked forward to our shared vision of the organization's future. As 2021 comes to a close, we need your support to BRING IT HOME and ensure that vision turns into a reality.
Gifts from members like you are integral to SABR's existence and we are hopeful you will consider a donation to sustain and grow our wonderful baseball community.
You can support SABR's Bring it Home Campaign by making a gift of at least $100 by December 31, 2021. We will use your best gift of $100, $300, $500, or $1,000 to boost initiatives in several key areas of SABR's mission:
Research: continued support for groundbreaking baseball-related research, books, articles, and new member resources
Scholarship: furthering the reach and impact of SABR's world-class committees, chapters, and conferences
Preservation: committing to preserve, honor, and commemorate baseball history
Future of the Game: improving SABR's ability to engage with a younger and more diverse constituency, including high school and college students, through baseball research
Visit SABR.org/donate/2021 to learn more.
---
SABR chapters and committees are encouraged to set up virtual meetings to stay engaged with our members throughout the world at SABR.org, as part of our Stay Home With SABR initiative to assist in limiting the spread of the COVID-19 coronavirus pandemic.
Here are some more upcoming virtual events you can attend online; check the Events Calendar for complete details:
December 27: Elysian Fields (NJ) Chapter meeting with with Perry Barber and Peter Golenbock (7:00 p.m. EST)
In addition, the following events will be held in person:
December 18: Babe 'n' Bob Chapter Breakfast (Edgewater, MD)
December 18: Connecticut Smoky Joe Wood Chapter holiday party (Rocky Hill, CT)
December 18: Rogers Hornsby Chapter monthly luncheon (Austin, TX)
December 21: Bob Davids Chapter Maryland Hot Stove Dinner (Silver Spring, MD)
Find more upcoming SABR meetings on our Events Calendar page.
---
Baseball fans, tune in this season to SABRcast with Rob Neyer, a weekly podcast hosted by award-winning author and longtime SABR member Rob Neyer.
Episode #141 on Monday, December 13 featured Richard Lally, who has written numerous popular books on baseball and other subjects, including four editions of Baseball For Dummies with Hall of Famer Joe Morgan; Have Glove, Will Travel and The Wrong Stuff, both with pitcher Bill Lee; Bombers: An Oral History of the New York Yankees and Pinstriped Summers: Memories of Yankee Seasons Past.
Visit SABR.org/sabrcast to listen to the full episode.
Subscribe to SABRcast on your favorite podcast networks, including Apple Podcasts, Amazon Music, Spotify, or Stitcher, and listen to each episode as soon as it's released on Mondays. To learn more, visit SABR.org/sabrcast.
---
Nine new biographies were posted this week as part of the SABR Baseball Biography Project. Here are the new bios published this week:
All new biographies can be found here: SABR.org/bioproject
Find any SABR biography: You can visit sabr.org/bioproject to search for any player — or manager, executive, scout, spouse, broadcaster, or umpire — who appears in the SABR BioProject. In addition, we have pages for Ballparks, Broadcasters, Executives, Games, Managers, Scouts, Spouses, Umpires, Writers, people who were Famous Outside Baseball, and a lot more.
---
Five new game stories were posted this week as part of the SABR Games Project. Here are the new game stories:
New Games Project stories can be found at SABR.org/gamesproject.
Get involved: Have memories of a game you attended? Or a game you watched that caught your interest? Write about it! Writing for the Games Project is an easy way to get involved as a SABR member. Find out how by reading the Games Project FAQs section or checking out the Authors' Guidelines. We have editors and fact checkers who are willing to help you write your first article.
Social media: Follow the SABR Games Project on Twitter or Facebook to keep up with new stories and updates.
Read more from Baseball's Biggest Blowout Games online: In 2020, the SABR Digital Library published Baseball's Biggest Blowout Games, edited by Bill Nowlin, with more than 125 accounts of the most lopsided games in major-league baseball history, including postseason games and the top four for all 30 MLB franchises. All of the stories from the Blowouts book can now be found online as part of the SABR Games Project.
---
Behind the Numbers: Baseball SABR Style on SiriusXM, a radio show hosted by former SABR Board President Vince Gennaro, is back at a new time. Listen to new episodes at 4:00-5:00 p.m. ET on Saturdays on MLB Network Radio.
You can also listen to archives of recent episodes on-demand on the SiriusXM Internet Radio app.
Behind the Numbers: Baseball SABR Style on SiriusXM focuses on examining and interpreting the statistical analysis that plays a critical role in baseball today. It airs weekly throughout the year on MLB Network Radio, available to subscribers nationwide on XM channel 89, Sirius channel 209, and on the SiriusXM Internet Radio App.
---
Please note: Only ONE entry per nomination will be considered (do not submit multiple nominations for the same award). For more information on SABR Awards, click here.
---
Here are some major headlines from recent weeks that we don't want you to miss:
All previous editions of This Week in SABR can be found here: SABR.org/this-week-in-sabr-archives.
---
We'd like to welcome all of our new SABR members who have joined this week. You can find all Members-Only resources at members.sabr.org and the Membership Handbook can be downloaded here.
Please give these new members a warm welcome and help them make the most of their membership by giving them the opportunity to get involved in their local chapter or a research committee.
You can find contact information for any SABR member in the online Membership Directory.
| Name | Hometown |   |   | Name | Hometown |
| --- | --- | --- | --- | --- | --- |
| Stanley Cesa | Pompton Plains, NJ | | | Josh McCann | Daytona Beach, FL |
| Scott Davis | Westborough, MA | | | Paul Nagel | Glen Cove, NY |
| Caleb Eloe | Des Moines, IA | | | Herc Pardi | Clayton, CA |
| William Gregory | Flower Mound, TX | | | Bernard Schaper | St. Louis, MO |
| Stéphane Guitard | Mascouche, QC | | | Devin Underwood | Clayton, CA |
| Larry Hausner | San Diego, CA | | | Mike Vouri | Friday Harbor, WA |
| Thomas Hoye | St. Paul, MN | | | | |
---
Here are the new research committee updates this week:
Find all SABR research committee newsletters at SABR.org/research/committees.
---
Here are the new regional chapter and chartered community updates this week:
Visit SABR.org/chapters for more information on SABR regional chapters.
---
Here are some recent articles published by and about SABR members:
Please note: Some articles may require a separate subscription to view online. SABR does not endorse, and is not responsible or liable for, any content that appears on a third-party website.
---
This Week in SABR is compiled by Jacob Pomrenke. If you would like us to include an upcoming event, article or any other information in "This Week in SABR," e-mail jpomrenke@sabr.org.
Have trouble reading this e-mail? Click here to view this week's newsletter on the web.
Are you receiving our e-mails? "This Week in SABR" goes out by e-mail to all members on Friday afternoons. If they're not showing up, try adding "sabr.notes@sabr.org" to your contact list to ensure they show up in your inbox (and not the spam folder.)
---
Originally published: December 17, 2021. Last Updated: December 17, 2021.
https://h2j7w4j4.stackpathcdn.com/wp-content/uploads/2020/06/SABR-LatestNews-TWIS-2016.jpg
250
847
sabr
/wp-content/uploads/2020/02/sabr_logo.png
sabr
2021-12-17 14:34:11
2021-12-17 14:34:11
This Week in SABR: December 17, 2021