This Week in SABR: July 16, 2021
Welcome to "This Week in SABR!" Click here to view this week's newsletter on the web. Here's what we've been up to as of July 16, 2021:
---
As part of SABR's 50th anniversary in 2021, all baseball fans are invited to join us online for the Summer of SABR: Golden Celebration Series, presented by Major League Baseball and Baseball-Reference.com.
The Jerry Malloy Negro League Conference makes its virtual return as part of the Summer of SABR series on July 23-25, 2021. Since 1998, the Malloy Conference has been the only symposium dedicated exclusively to the examination and promotion of Black baseball history.
Join us next weekend for a series of presentations, chats, and panel discussions featuring a special "Black Baseball Before 1920" panel discussion with Negro Leagues historians James Brunson III, Todd Peterson, John Thorn, and Larry Lester; video highlights narrated by acclaimed musician Chuck D; along with presentations by Mark Aubrey, Milbert Brown, Brunson, Eric Chalek, Steve Dittmore, James Forr, Harriet Hamilton-Kimbo, Leslie Heaphy, Katie Krall, Rodney Page, Peterson, Bill Plott, Rich Puerzer, Emily Rutter, and Jeb Stewart.
Registration: Click here to register for the Summer of SABR: Golden Celebration Series. Registration is $35 for SABR members and $50 for non-members. Note: If you already registered in June, there is no need to register again. The single registration fee will provide access to the entirety of the Summer of SABR: Golden Celebration Series, including every session on June 25-27, July 23-25, and August 10, 13-14. That's NINE incredible virtual sessions, including the full Jerry Malloy Negro League Conference, for just one registration price.
Contact: Please e-mail Scott Carter with any other questions about your registration.
Schedule: Click here for more details on the panels and presentations to be delivered at the 2021 Jerry Malloy Negro League Conference.
Visit SABR.org/summer to register today or for more information.
---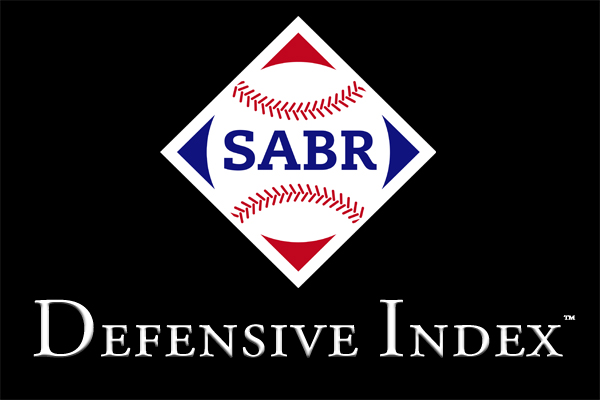 New York shortstop Francisco Lindor and Oakland third baseman Matt Chapman are in the top spots in their respective leagues after the first half of the 2021 Major League Baseball season in the most recent SABR Defensive Index™ rankings.
For the ninth consecutive season, the SABR Defensive Index will be used to help select the winners of the Rawlings Gold Glove Award® and Rawlings Platinum Glove Award™, presented by SABR. The SDI draws on and aggregates two types of existing defensive metrics: those derived from batted ball location-based data and those collected from play-by-play accounts. SDI utilizes MLBAM's Statcast, Sports Information Solutions data, and STATS, LLC data as well as traditional statistics with advanced analysis. The SABR Defensive Index accounts for approximately 25 percent of the Rawlings Gold Glove Award selection process that will be added to the votes from the managers and coaches.
Lindor's SDI of 6.3 is the highest in the NL among all qualified defenders, just ahead of Colorado third baseman Joshua Fuentes (6.1). Rounding out the top five are San Diego third baseman Manny Machado, Pittsburgh catcher Jacob Stallings, and Miami right fielder Adam Duvall, all at 4.7.
Chapman's SDI of 6.5 leads all fielders in the AL, followed by Texas right fielder Joey Gallo (6.0), Tampa Bay center fielder Brett Phillips (5.0), Chicago pitcher Dallas Keuchel (5.0), and Toronto second baseman Marcus Semien (4.8).
Click here to read the full announcement at SABR.org.
---
F.X. Flinn, who has served as the Treasurer of SABR's Board of Directors since 2001, has resigned his position, which creates an opening for a new Director who will be appointed by the remaining Board members. Flinn is the longest tenured Board member in SABR's history, working with four Executive Directors and 27 other Board members over the past two decades.
"I am quite satisfied with where SABR is these days," Flinn said. "Many of the problems that I joined the Board to focus on — especially its financial health and its website — are in a much better place, and I have taken on non-SABR commitments that have made my time more difficult to spare. All in all, it seems this is a good time for me to call it a day."
The SABR Board has decided to shift Dan Levitt, currently serving as a Director, to Flinn's vacated Treasurer post. This creates an opening to fill the remaining two years of Levitt's seat. In accordance with the SABR By-Laws, the Board plans to fill this open position in the next few weeks.
If you are interested in applying for this position, please contact Allison Levin (allison.levin@gmail.com) by Monday, July 26.
---
SABR's 19th Century Baseball Grave Marker Project Committee will be dedicating a grave monument on the previously unmarked grave of Luis Castro. Baseball fans are welcome to attend this free public event, although space is limited. The ceremony will be held at 10:00 a.m. EDT on Tuesday, July 20 at Mount St. Mary Cemetery in Flushing, Queens, New York.
Luis Castro was a semi-pro standout during the final years of the 19th century. He was born in Medellin, Colombia, and has the distinction of being the first Latino to play in the Major Leagues (NL or AL) when he made his debut for the Philadelphia Athletics on April 23, 1902. His arrival was a portent of the future of professional baseball. Today roughly 30% of Major League rosters are made up of Latino players. Castro is also the namesake of SABR's Latin American chapter, which serves Spanish-speaking members in Central and South America. Click here to read Luis Castro's full SABR biography, by Brian McKenna.
In attendance at the dedication will be John Thorn, Official Historian of Major League Baseball, as well as State Senator Jessica Ramos, New York's first Colombian-American Senator. July 20 is Colombian Independence Day (1810).
To learn more about the SABR 19th Century Baseball Grave Marker Project, or to make a tax-deductible donation in support, click here.
---
Baseball card photographer Doug McWilliams, the winner of the 2021 Jefferson Burdick Award, which honors individuals who have made significant contributions to the baseball card hobby, was honored by SABR's Baseball Cards Research Committee in a virtual awards ceremony on Thursday, July 15. Click here to watch a replay of the ceremony, held on Zoom.
McWilliams was a photographer for The Topps Company from 1971 to 1994, and his images graced thousands of baseball cards throughout an era of monumental changes in the hobby. His association with Topps began after he produced color postcards for Oakland A's pitcher Vida Blue and then was hired by the card company to take photographs at spring training in Arizona. A native of Berkeley, California, McWilliams was based on the West Coast, photographing players at their Cactus League training camps and during the season in Oakland and San Francisco. In 2010, McWilliams donated a collection of 10,000 color negatives to the Baseball Hall of Fame in Cooperstown.
Click here to read the full announcement at SABR.org.
---
SABR and the International Women's Baseball Center have opened registration for the third annual SABR/IWBC Women in Baseball Conference on September 10-12, 2021, at Rockford University in Rockford, Illinois.
This year's conference theme is "Breaking Barriers: Women in Baseball Around the World."
Register: Click here to register online. The conference is open to all baseball fans.
Cost: In-person attendance is $100 per person, and includes access to all panels and presentations, social hour, reception/luncheon, pylon unveiling, goody bag, program, and 1 raffle ticket. Virtual attendance is $75 per person, and includes access to all panels and presentations, program, and 1 raffle ticket. 1 ticket to reception/luncheon only is $30 per person. Additional raffle tickets are $5 apiece. Deadline to register: September 3, 2021.
Schedule: Stay tuned for more details on panels and presentations.
Contact: For questions, please contact Leslie Heaphy or Kat Williams.
For coverage of the 2020 virtual conference, visit SABR.org/women-in-baseball-conference/2020.
---
SABR chapters and committees are encouraged to set up virtual meetings to stay engaged with our members throughout the world at SABR.org, as part of our Stay Home With SABR initiative to assist in limiting the spread of the COVID-19 coronavirus pandemic.
Can't-Miss Event: SABR's Baltimore Babe Ruth Chapter will hold a virtual Zoom meeting at 12:00 p.m. EDT on Wednesday, July 21. All baseball fans are welcome to join us. Broadcaster Adam Pohl of the Bowie Baysox, the Baltimore Orioles' Class AA affiliate, will be speaking to us on minor-league realignment and related stories. Click here to register for this meeting.

Video Replays: This week, we heard from baseball card photographer Doug McWilliams and the Pacific Northwest Chapter held a virtual social hour. Click here to view more video replays of virtual SABR events.
Here are some more upcoming virtual events you can attend online; check the Events Calendar for complete details:
July 20: IBWAA: The Press Box with John Supowitz (8:00 p.m. EDT)
July 21: Baltimore Babe Ruth Chapter meeting with Adam Pohl (12:00 p.m. EDT)
July 22: Larry Doby (SC) Chapter meeting with Luke Epplin (7:00 p.m. EDT)
July 22: IBWAA: Up Next with Ben Chase (9:00 p.m. EDT)
July 23: Summer of SABR: Jerry Malloy Negro League Conference (7:00 p.m. EDT)
July 24: Summer of SABR: Jerry Malloy Negro League Conference (11:00 a.m. EDT)
July 24: Sweet Lou Johnson Lexington (KY) Chapter meeting (1:00 p.m. EDT)
July 25: Summer of SABR: Jerry Malloy Negro League Conference (1:30 p.m. EDT)
In addition, the following events will be held in person:
July 17: Babe 'n' Bob Chapter monthly breakfast (Edgewater, MD)
July 17: Halsey Hall (MN) Chapter: Hot Stove Saturday Morning (Minneapolis, MN)
July 17: Boston Chapter ballgame/meeting (Worcester, MA)
July 17: Rogers Hornsby (TX) Chapter meeting (Austin, TX)
July 17: Emil Rothe Chicago Chapter ballgame/meeting (Joliet, IL)
July 20: Luis Castro grave marker dedication ceremony (Flushing, NY)
July 22: Rocky Mountain (CO) Chapter monthly luncheon (Denver, CO)
July 24: Schott-Pelican (LA) Chapter meeting (Metairie, LA)
July 24: Oscar Charleston (IN) Chapter ballgame/meeting (Indianapolis, IN)
July 25: Cliff Kachline (NY) Chapter meeting (Cooperstown, NY)
Find more upcoming SABR meetings on our Events Calendar page.
---
In the SABR Research Collection, you can now find every issue of the Baseball Research Journal and The National Pastime from SABR's first 50 years online!
Most issues of SABR's flagship publications are available to read online, with thousands of articles already searchable at SABR.org, while the rest are available as PDF downloads.
Established in 1972, the Baseball Research Journal was created so members could publish and share their research with like-minded students of baseball. Today, the BRJ provides a unique mix of cutting-edge baseball research and historical and biographical articles.
The National Pastime was launched in 1982 and published annually; since 2009 it has served as SABR's convention-focused publication, providing in-depth articles focused on the geographic region where the Annual Convention is taking place.
More articles from the SABR archives will be added online to the Research Collection in the coming months. Click here to learn more about the BRJ and TNP in our Member Benefit Spotlight video.
---
Baseball fans, tune in this season to SABRcast with Rob Neyer, a weekly podcast hosted by award-winning author and longtime SABR member Rob Neyer.
Episode #119 on Monday, July 12 featured Hannah Keyser, a writer and reporter with Yahoo! Sports. She has covered sports and food for Major League Baseball, Deadspin, and Vice. She lives in New York, after growing up outside of Philadelphia and getting an ancient history degree from the University of Pennsylvania that almost never comes up in her current line of work. She most recently appeared on SABRcast in February 2021 for Episode #98.
Visit SABR.org/sabrcast to listen to the full episode.
Subscribe to SABRcast on your favorite podcast networks, including Apple Podcasts, Spotify, or Stitcher, and listen to each episode as soon as it's released on Mondays. To learn more, visit SABR.org/sabrcast.
---
Three new biographies were posted this week as part of the SABR Baseball Biography Project. Here are the new bios published this week:
All new biographies can be found here: SABR.org/bioproject
Find any SABR biography: You can visit sabr.org/bioproject to search for any player — or manager, executive, scout, spouse, broadcaster, or umpire — who appears in the SABR BioProject. In addition, we have pages for Ballparks, Broadcasters, Executives, Games, Managers, Scouts, Spouses, Umpires, Writers, people who were Famous Outside Baseball, and a lot more.
Read all SABR bios from 1935 Pittsburgh Crawfords book: In Pride of Smoketown: The 1935 Pittsburgh Crawfords, edited by Frederick C. Bush and Bill Nowlin and published in 2020, we told the story of one of the Negro Leagues' most dominant teams, which boasted four Hall of Fame players. All of the biographies from Pride of Smoketown are now available to read online at the SABR BioProject. Visit SABR.org/ebooks to download the free e-book edition or save 50% off the paperback.
---
Fourteen new game stories were posted this week as part of the SABR Games Project. Here are the new game stories:
New Games Project stories can be found at SABR.org/gamesproject.
Get involved: Have memories of a game you attended? Or a game you watched that caught your interest? Write about it! Writing for the Games Project is an easy way to get involved as a SABR member. Find out how by reading the Games Project FAQs section or checking out the Authors' Guidelines. We have editors and fact checkers who are willing to help you write your first article.
---
Behind the Numbers: Baseball SABR Style on SiriusXM, a radio show hosted by former SABR Board President Vince Gennaro, is back at a new time for the regular season. Listen to new episodes at 8:00-9:00 p.m. ET on Saturdays on MLB Network Radio.
You can also listen to archives of recent episodes on-demand on the SiriusXM Internet Radio app.
Behind the Numbers: Baseball SABR Style on SiriusXM focuses on examining and interpreting the statistical analysis that plays a critical role in baseball today. It airs weekly throughout the year on MLB Network Radio, available to subscribers nationwide on XM channel 89, Sirius channel 209, and on the SiriusXM Internet Radio App.
---
Here are some major headlines from recent weeks that we don't want you to miss:
All previous editions of This Week in SABR can be found here: SABR.org/this-week-in-sabr-archives.
---
We'd like to welcome all of our new SABR members who have joined this week. You can find all Members-Only resources at members.sabr.org and the Membership Handbook can be downloaded here.
Please give these new members a warm welcome and help them make the most of their membership by giving them the opportunity to get involved in their local chapter or a research committee.
You can find contact information for any SABR member in the online Membership Directory.
| Name | Hometown |   |   | Name | Hometown |
| --- | --- | --- | --- | --- | --- |
| Ted Davidson | Napa, CA | | | Raymond Brown | Columbia, MD |
| Steve Cribbis | Rotherham, ENG | | | Adrianne Grubic | Austin, TX |
| Joe Dattoli | Surprise, AZ | | | Jim Knoblauch | Danville, IL |
| Ivie Crawford | Rancho Cucamonga, CA | | | Philip Lee | Leicester, ENG |
| Bryce Martin | Spring Hill, TN | | | Andrew Sanchez | Santa Fe Springs, CA |
| Ryan Ganimian | Los Angeles, CA | | | James Navarro | Arvada, CO |
| Dan Shaw | Ballyclare, NIR | | | David Bella | Alexandria, VA |
| Thomas King | Brick, NJ | | | Joel Scrivener | Mosman, AUS |
| Walt Larry | Concord, CA | | | Naymish Patel | Mullica Hill, NJ |
| Travis Clarke | Pleasant Hill, CA | | | Robert Cvornyek | Panama City Beach, FL |
---
Here are the new research committee updates this week:
Find all SABR research committee newsletters at SABR.org/research/committees.
---
Here are the new regional chapter and chartered community updates this week:
Visit SABR.org/chapters for more information on SABR regional chapters.
---
Here are some recent articles published by and about SABR members:
Please note: Some articles may require a separate subscription to view online. SABR does not endorse, and is not responsible or liable for, any content that appears on a third-party website.
---
This Week in SABR is compiled by Jacob Pomrenke. If you would like us to include an upcoming event, article or any other information in "This Week in SABR," e-mail jpomrenke@sabr.org.
Have trouble reading this e-mail? Click here to view this week's newsletter on the web.
Are you receiving our e-mails? "This Week in SABR" goes out by e-mail to all members on Friday afternoons. If they're not showing up, try adding "sabr.notes@sabr.org" to your contact list to ensure they show up in your inbox (and not the spam folder.)
---
Originally published: July 16, 2021. Last Updated: July 16, 2021.
https://h2j7w4j4.stackpathcdn.com/wp-content/uploads/2020/06/SABR-LatestNews-TWIS-2016.jpg
250
847
sabr
/wp-content/uploads/2020/02/sabr_logo.png
sabr
2021-07-16 13:32:50
2021-07-16 13:51:15
This Week in SABR: July 16, 2021