This Week in SABR: December 23, 2020
Welcome to "This Week in SABR!" Click here to view this week's newsletter on the web. Please note: The SABR office will be closed for the holidays on Friday, December 25 and January 1. The next newsletter will be sent on Friday, January 8, 2021. Here's what we've been up to as of December 23, 2020:
---
(Click image to enlarge)
---
Good news! The Fall 2020 edition of the Baseball Research Journal has been mailed out to all SABR members. This issue includes a special illustrated cover of Hall of Fame catcher and Negro Leagues legend Josh Gibson by SABR member Gary Cieradkowski. Click here to learn more about Gary's design for the new BRJ cover.
Those of you who receive the print edition should find your BRJ arriving in the next two to four weeks. For digital subscribers, the e-book edition was delivered on Monday, December 21.
We hope you enjoy reading the Fall 2020 Baseball Research Journal!
---
While most of you are now enrolled in our automatic renewal program, for anyone whose SABR memberships expire by December 31 — you can check your current membership status here — it's time for you to renew!
From the Baseball Research Journal and the SABR Digital Library to "This Week in SABR" and our extensive list of research resources — and, of course, all the memorable virtual chapter and committee meetings — we hope you enjoyed the many benefits of SABR membership this past year.
We hope you please continue your support by renewing your SABR membership today at SABR.org/renew.
Pay by phone: To process your credit-card payment over the phone, please call the SABR office at (602) 496-1460 during regular business hours. (We accept Visa, Mastercard, or Discover Card.)
Renew by mail: To pay by check or money order, mail this downloadable PDF form and your payment to the office at SABR, Cronkite School at ASU, 555 N. Central Ave. #416, Phoenix, AZ 85004.
Thank you for your support of SABR as we continue to strive to make SABR membership a great experience and a great value!
---
The National Pastime is SABR's annual summer journal, which since 2009 has been themed to the location of the SABR national convention. Last year's theme was Baltimore, but the 2020 convention was pushed forward to 2021 due to the global pandemic — meaning that in 2021 we were free to explore a new thematic direction. We are taking advantage of this unique opportunity to expand and challenge our thinking and become Baseball Futurists.
The 2021 issue of The National Pastime will focus on the future through the lens of baseball. Just as baseball and its history is a reflection of the culture and society of the past and present, it can also serve as input, context, and/or predictor of plausible futures for sports in the United States and other countries. Tentatively subtitled The Future According to Baseball, this issue of The National Pastime will collect thought-provoking articles from a variety of disciplines.
This issue of The National Pastime will be co-edited by Marty Resnick and Cecilia Tan. Marty will be taking queries and abstracts until January 15, 2021, and will make assignments no later than January 30. First drafts of articles will be due no later than March 8 and rewrites (if needed) will be due by April 15. To query, send an email to marty@teamresnick.com with the subject line "TNP Query" and a key word or two on your subject.
Click here to read the full announcement at SABR.org.
---
SABR commemorates its 50th anniversary in 2021 and will launch its year-long celebration with SABR Day on Saturday, January 30. SABR Day will be hosted virtually around the globe for the first time, giving baseball fans a chance to come together — wherever they live — to share their love of the game.
The program will include conversations with broadcasting legend Bob Costas of MLB Network and National Baseball Hall of Fame and Museum President Tim Mead.
"We are honored and thrilled to have Bob Costas and Tim Mead join us for the first-ever virtual SABR Day," SABR CEO Scott Bush said. "There is not a better way to lead off our Golden Anniversary and we excitedly look forward to sharing SABR with the entire baseball community."
SABR Day registration will be free for SABR members. A $10 donation will be requested of non-members. Click here to register online. The virtual SABR Day program will run from 2:00-4:00 p.m. EST on January 30.
---
Early registration is now open for the SABR Virtual Analytics Conference, which will be held over four days in online sessions from March 11-14, 2021. We'll bring together the top minds in the baseball analytics community to discuss, debate, and share insightful ways to analyze and examine the great game of baseball. Register today to join us!
Programming will run on Thursday and Friday evening from 6:30-9:00 p.m. Eastern, all day Saturday from 12:00-8:00 p.m. Eastern, and Sunday afternoon from 1:00-5:00 p.m. EDT.
Stay tuned for more details on guest speakers, panelists, and presenters! Visit SABR.org/analytics to learn more.
---
With the holiday season upon us and our Golden Anniversary around the corner, we want to thank you for your continuing support of SABR. Gifts from members like you make it possible to sustain and grow SABR into the future.
All donors joining SABR's Golden Lineup with a $100 gift or more will receive a copy of From Rube to Robinson, our anthology of research celebrating the centennial anniversary of the Negro Leagues. Donors supporting SABR with a gift of $500 or more will also receive a miniature Rawlings Gold Glove Award replica and be entered to win the SABR Golden Ticket. The winner of the SABR Golden Ticket will receive:
Lifetime membership to SABR
All expenses paid to a SABR conference of their choice
Attend the 2021 Rawlings Gold Glove Award Banquet in New York City
To learn more, or to join SABR's Golden Lineup, visit SABR.org/donate/2020.
---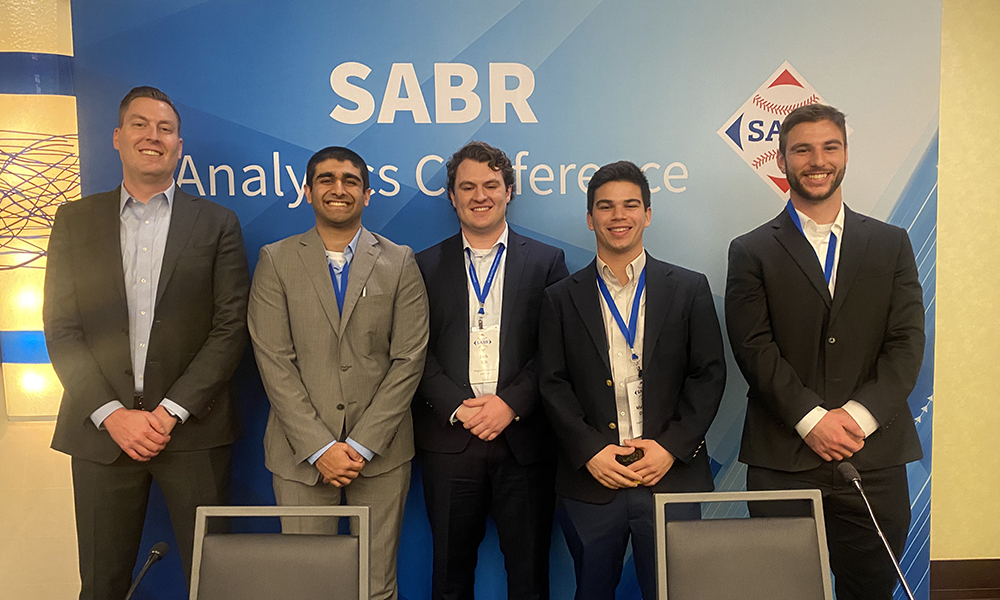 The 2021 Diamond Dollars Virtual Case Competition will be held online from 11:00 a.m.-3:00 p.m. EST on Friday, March 12, 2021, as part of the SABR Virtual Analytics Conference.
Visit SABR.org/analytics/case to learn more.
---
With generous funding from The Anthony A. Yoseloff Foundation, Inc., SABR will award up to eight scholarships to high school and college students who wish to attend the SABR Virtual Analytics Conference on March 11-14, 2021. This scholarship will pay for all registration fees and expenses associated with the conference.
The deadline to apply is December 31, 2020. The objective of this scholarship fund is to encourage student engagement with baseball analytics, and to engender an active interest in baseball research and SABR.
Click here to read the full announcement at SABR.org.
---
SABR chapters and committees are encouraged to set up virtual meetings to stay engaged with our members throughout the world at SABR.org, as part of our Stay Home With SABR initiative to assist in limiting the spread of the COVID-19 coronavirus pandemic.
This week, we heard from Rob Fitts, author of Banzai Babe Ruth.
Here are some more upcoming virtual events you can attend online; check the Events Calendar for complete details:
December 28: Elysian Fields (N.J.) Chapter meeting with Anne R. Keene (9:00 p.m. EST)
January 2, 2021: Talkin' Baseball: Perry Barber (9:00 a.m. EST)
January 5: Bay Area/Sacramento joint chapter meeting with Jacob Pomrenke (7:00 p.m. PST)
January 6: Ottawa Chapter inaugural meeting (7:00 p.m. EST)
January 9: Detroit Chapter: Hank Greenberg Symposium with Steve Greenberg, Aviva Kempner, Herm Krabbenhoft, and John Rosengren (1:00 p.m. EST)
Find more upcoming virtual meetings on our SABR Events Calendar page.
Click here to view replays of any SABR virtual event in 2020.
---
The SABR office, housed at Arizona State University's Walter Cronkite School of Journalism and Mass Communication in Phoenix, Arizona, has been closed indefinitely due to the ongoing coronavirus (COVID-19) situation. Staff members will work remotely until it is advisable to resume normal operations on-site.
Please contact a member of the SABR staff by email or phone with any questions.
---
Baseball fans, tune in this season to SABRcast with Rob Neyer, a weekly podcast hosted by award-winning author and longtime SABR member Rob Neyer.
Episode #91 on Monday, December 21 featured Gary Ashwill, co-founder of the Seamheads.com's Negro Leagues Database, a comprehensive statistical record of Black baseball dating back to the late 19th century. The database won a SABR Baseball Research Award in 2012. Ashwill writes regularly on the Negro Leagues, minor leagues, and Cuban baseball at his Agate Type blog. He was a contributor to the Negro League Researchers and Authors Group (NLRAG) established by Major League Baseball and the Baseball Hall of Fame in 2000.
Visit SABR.org/sabrcast to listen to the full episode.
Subscribe to SABRcast on your favorite podcast networks, including Apple Podcasts, Spotify, Stitcher, or Google Play, and listen to each episode as soon as it's released on Mondays. To learn more, visit SABR.org/sabrcast.
---
Six new biographies were posted this week as part of the SABR Baseball Biography Project. Here are the new bios published this week:
All new biographies can be found here: SABR.org/bioproject
Find any SABR biography: You can visit sabr.org/bioproject to search for any player — or manager, executive, scout, spouse, broadcaster, or umpire — who appears in the SABR BioProject. In addition, we have pages for Ballparks, Broadcasters, Executives, Games, Managers, Scouts, Spouses, Umpires, Writers, people who were Famous Outside Baseball, and a lot more.
Seeking authors for 2021 Hall of Fame candidates: As part of our BioProject Hall of Fame Ballot initiative, we are still seeking authors for all of the first-time players on this year's ballot, including Tim Hudson, A.J. Burnett, Nick Swisher, and Shane Victorino. Please contact bioassign@sabr.org if you are interested in writing about one of these players.
---
Thirteen new game stories were posted this week as part of the SABR Games Project. Here are the new game stories:
New Games Project stories can be found at SABR.org/gamesproject.
Get involved: Have memories of a game you attended? Or a game you watched that caught your interest? Write about it! Writing for the Games Project is an easy way to get involved as a SABR member. Find out how by reading the Games Project FAQs section or checking out the Authors' Guidelines. We have editors and fact checkers who are willing to help you write your first article.
Social media: Follow the SABR Games Project on Twitter or Facebook to keep up with new stories and updates.
Read all stories from Babe Ruth greatest games book: Click here to read all stories from The Babe (SABR, 2019), edited by Bill Nowlin and Glen Sparks, online at the SABR Games Project.
---
Behind the Numbers: Baseball SABR Style on SiriusXM, a radio show hosted by former SABR Board President Vince Gennaro, is back at a new time. Listen to new episodes at 4:00-5:00 p.m. ET on Saturdays on MLB Network Radio.
You can also listen to archives of recent episodes on-demand on the SiriusXM Internet Radio app.
Behind the Numbers: Baseball SABR Style on SiriusXM focuses on examining and interpreting the statistical analysis that plays a critical role in baseball today. It airs weekly throughout the year on MLB Network Radio, available to subscribers nationwide on XM channel 89, Sirius channel 209, and on the SiriusXM Internet Radio App.
---
Please note: Only ONE entry per nomination will be considered (do not submit multiple nominations for the same award). For more information on SABR Awards, click here.
---
Here are some major headlines from recent weeks that we don't want you to miss:
All previous editions of This Week in SABR can be found here: https://sabr.org/content/this-week-in-sabr-archives.
---
We'd like to welcome all of our new SABR members who have joined this week. You can find all Members-Only resources at members.sabr.org and the Membership Handbook can be downloaded here.
Please give these new members a warm welcome and help them make the most of their membership by giving them the opportunity to get involved in their local chapter or a research committee.
You can find contact information for any SABR member in the online Membership Directory.
| Name | Hometown |   |   | Name | Hometown |
| --- | --- | --- | --- | --- | --- |
| Shane Barclay | Santa Cruz, CA | | | Rolland Hofstedt | Pasco, WA |
| Matthew Bernstein | Atlanta, GA | | | Alexander Hynes | Champaign, IL |
| Peter Blasevick | Newfoundland, NJ | | | John Lindo | Whitby, ON |
| Jim Buck | Brighton, MI | | | Robert Meyers | Alexandria, VA |
| Jason Bugg | San Jose, CA | | | Lynn Poppe | Omaha, NE |
| Brendan Connolly | Hanover, MA | | | Steve Reynolds | Painesville, OH |
| Joseph DeCaro | Staten Island, NY | | | Gian Severini | Hewitt, NJ |
| Elias Fedele | Pittsburgh, PA | | | Chris Soltow | Thousand Oaks, CA |
| Joe Genovese | Raleigh, NC | | | Craig Timberlake | Corydon, IN |
| Michael Hanson | Portland, OR | | | Bob Wechsler | Bahama, NC |
---
Here are the new research committee updates this week:
BioProject: We are seeking additional volunteers to serve as fact-checkers for future BioProject submissions. If you are interested in joining the team, please contact Alan Cohen.
Black Sox Scandal: December 2020 newsletter
Find all SABR research committee newsletters at SABR.org/research/committees.
---
Here are the new regional chapter updates this week:
Visit SABR.org/chapters for more information on SABR regional chapters.
---
Here are some recent articles published by and about SABR members:
Please note: Some articles may require a separate subscription to view online. SABR does not endorse, and is not responsible or liable for, any content that appears on a third-party website.
---
This Week in SABR is compiled by Jacob Pomrenke. If you would like us to include an upcoming event, article or any other information in "This Week in SABR," e-mail jpomrenke@sabr.org.
Have trouble reading this e-mail? Click here to view this week's newsletter on the web.
Are you receiving our e-mails? "This Week in SABR" goes out by e-mail to all members on Friday afternoons. If they're not showing up, try adding "sabr.notes@sabr.org" to your contact list to ensure they show up in your inbox (and not the spam folder.)
---
Originally published: December 23, 2020. Last Updated: December 23, 2020.
https://sabr.org/wp-content/uploads/2020/06/SABR-LatestNews-TWIS-2016.jpg
250
847
sabr
/wp-content/uploads/2020/02/sabr_logo.png
sabr
2020-12-23 13:42:54
2020-12-23 14:20:49
This Week in SABR: December 23, 2020