This Week in SABR: December 18, 2020
Welcome to "This Week in SABR!" Click here to view this week's newsletter on the web. Here's what we've been up to as of December 18, 2020:
---
SABR has established a task force to evaluate how to better integrate Negro Leagues records, stats, and stories into SABR's publications, databases, and future research projects.
On Wednesday, Commissioner Rob Manfred announced that Major League Baseball is officially recognizing the major-league status of the Negro Leagues.
"We are thrilled that Major League Baseball has taken this step," SABR Chief Executive Officer Scott Bush said. "This acknowledgment is consistent with the tremendous work done by many researchers who have championed the study of Black baseball and helped shine a light on these deserving players and teams from the Negro Leagues."
The task force is chaired by Mark Armour, president of SABR's Board of Directors, and includes representatives from SABR's Negro Leagues Committee, Baseball Records Committee, Biographical Research Committee, and other influential members of the baseball research community. Before Jackie Robinson made his debut with the Brooklyn Dodgers in 1947, no Black players had played in the National League or other major leagues since white baseball officials established a racial color barrier in 1887.
Click here to learn more about SABR's Negro Leagues Committee, which dates back to the organization's founding in 1971.
---
While most of you are now enrolled in our automatic renewal program, for anyone whose SABR memberships expire by December 31 — you can check your current membership status here — it's time for you to renew!
From the Baseball Research Journal and the SABR Digital Library to "This Week in SABR" and our extensive list of research resources — and, of course, all the memorable virtual chapter and committee meetings — we hope you enjoyed the many benefits of SABR membership this past year.
We hope you please continue your support by renewing your SABR membership today at SABR.org/renew.
Pay by phone: To process your credit-card payment over the phone, please call the SABR office at (602) 496-1460 during regular business hours. (We accept Visa, Mastercard, or Discover Card.)
Renew by mail: To pay by check or money order, mail this downloadable PDF form and your payment to the office at SABR, Cronkite School at ASU, 555 N. Central Ave. #416, Phoenix, AZ 85004.
Thank you for your support of SABR as we continue to strive to make SABR membership a great experience and a great value!
---
SABR commemorates its 50th anniversary in 2021 and will launch its year-long celebration with SABR Day on Saturday, January 30. SABR Day will be hosted virtually around the globe for the first time, giving baseball fans a chance to come together — wherever they live — to share their love of the game.
The program will include conversations with broadcasting legend Bob Costas of MLB Network and National Baseball Hall of Fame and Museum President Tim Mead.
"We are honored and thrilled to have Bob Costas and Tim Mead join us for the first-ever virtual SABR Day," SABR CEO Scott Bush said. "There is not a better way to lead off our Golden Anniversary and we excitedly look forward to sharing SABR with the entire baseball community."
SABR Day registration will be free for SABR members. A $10 donation will be requested of non-members. Click here to register online. The virtual SABR Day program will run from 2:00-4:00 p.m. EST on January 30.
---
Early registration is now open for the SABR Virtual Analytics Conference, which will be held over four days in online sessions from March 11-14, 2021. We'll bring together the top minds in the baseball analytics community to discuss, debate, and share insightful ways to analyze and examine the great game of baseball. Register today to join us!
Programming will run on Thursday and Friday evening from 6:30-9:00 p.m. Eastern, all day Saturday from 12:00-8:00 p.m. Eastern, and Sunday afternoon from 1:00-5:00 p.m. EDT.
Stay tuned for more details on guest speakers, panelists, and presenters! Visit SABR.org/analytics to learn more.
---
With the holiday season upon us and our Golden Anniversary around the corner, we want to thank you for your continuing support of SABR. Gifts from members like you make it possible to sustain and grow SABR into the future.
All donors joining SABR's Golden Lineup with a $100 gift or more will receive a copy of From Rube to Robinson, our anthology of research celebrating the centennial anniversary of the Negro Leagues. Donors supporting SABR with a gift of $500 or more will also receive a miniature Rawlings Gold Glove Award replica and be entered to win the SABR Golden Ticket. The winner of the SABR Golden Ticket will receive:
Lifetime membership to SABR
All expenses paid to a SABR conference of their choice
Attend the 2021 Rawlings Gold Glove Award Banquet in New York City
To learn more, or to join SABR's Golden Lineup, visit SABR.org/donate/2020.
---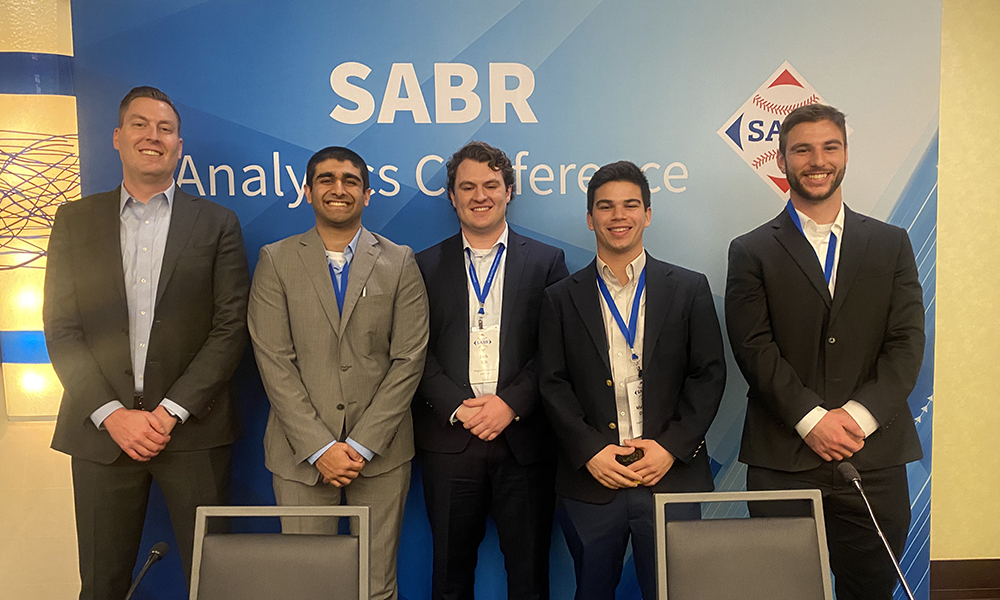 The 2021 Diamond Dollars Virtual Case Competition will be held online from 11:00 a.m.-3:00 p.m. EST on Friday, March 12, 2021, as part of the SABR Virtual Analytics Conference.
Visit SABR.org/analytics/case to learn more.
---
With generous funding from The Anthony A. Yoseloff Foundation, Inc., SABR will award up to eight scholarships to high school and college students who wish to attend the SABR Virtual Analytics Conference on March 11-14, 2021. This scholarship will pay for all registration fees and expenses associated with the conference.
The deadline to apply is December 31, 2020. The objective of this scholarship fund is to encourage student engagement with baseball analytics, and to engender an active interest in baseball research and SABR.
Click here to read the full announcement at SABR.org.
---
SABR chapters and committees are encouraged to set up virtual meetings to stay engaged with our members throughout the world at SABR.org, as part of our Stay Home With SABR initiative to assist in limiting the spread of the COVID-19 coronavirus pandemic.
This week, we heard from Sean Gibson of the Josh Gibson Foundation and a panel on baseball's new Pioneer League with Chris Phillips, Ryan Spillborghs, Chris Moyer, and Dan Evans.
Here are some more upcoming virtual events you can attend online; check the Events Calendar for complete details:
December 19: Hank Gowdy (Ohio) Chapter meeting (9:30 a.m. EST)
December 19: Bud Metheny (Va.) Chapter book club meeting with Rob Fitts (10:00 a.m. EST)
December 19: Ken Keltner (Wis.) Chapter holiday party (6:00 p.m. CST)
December 22: Goose Goslin (N.J.) Chapter meeting with Sean Gibson (7:00 p.m. EST)
December 28: Elysian Fields (N.J.) Chapter meeting with Anne R. Keene (9:00 p.m. EST)
Find more upcoming virtual meetings on our SABR Events Calendar page.
Click here to view replays of any SABR virtual event in 2020.
---
The SABR Women in Baseball Committee would like to create a comprehensive timeline that includes all aspects of women playing, working in, or being involved in baseball. No event or person is too small to include.
Please click here to submit an entry for the timeline with as much or as little detail as you have.
For example, you could an entry as simple as "1883: Dolly Vardens played" or something more specific such as "September 11, 1875: game in Springfield, IL between the blondes and brunettes."
Click here to learn more about SABR's Women in Baseball Committee.
— Leslie Heaphy
---
The SABR office, housed at Arizona State University's Walter Cronkite School of Journalism and Mass Communication in Phoenix, Arizona, has been closed indefinitely due to the ongoing coronavirus (COVID-19) situation. Staff members will work remotely until it is advisable to resume normal operations on-site.
Please contact a member of the SABR staff by email or phone with any questions.
---
Baseball fans, tune in this season to SABRcast with Rob Neyer, a weekly podcast hosted by award-winning author and longtime SABR member Rob Neyer.
Episode #90 on Monday, December 14 featured Scott Bush, SABR's Chief Executive Officer, who spoke with Rob to break down the realignment of the minor leagues. Scott formerly served as Senior Vice President for Business Development with the Goldklang Group and worked for five years as Assistant General Manager for the St. Paul Saints, where he played a key role in establishing CHS Field in St. Paul, Minnesota.
Visit SABR.org/sabrcast to listen to the full episode.
Subscribe to SABRcast on your favorite podcast networks, including Apple Podcasts, Spotify, Stitcher, or Google Play, and listen to each episode as soon as it's released on Mondays. To learn more, visit SABR.org/sabrcast.
---
Six new biographies were posted this week as part of the SABR Baseball Biography Project. Here are the new bios published this week:
All new biographies can be found here: SABR.org/bioproject
Find any SABR biography: You can visit sabr.org/bioproject to search for any player — or manager, executive, scout, spouse, broadcaster, or umpire — who appears in the SABR BioProject. In addition, we have pages for Ballparks, Broadcasters, Executives, Games, Managers, Scouts, Spouses, Umpires, Writers, people who were Famous Outside Baseball, and a lot more.
Seeking authors for 2021 Hall of Fame candidates: As part of our BioProject Hall of Fame Ballot initiative, we are still seeking authors for all of the first-time players on this year's ballot, including Tim Hudson, A.J. Burnett, Nick Swisher, and Shane Victorino. Please contact bioassign@sabr.org if you are interested in writing about one of these players.
Sign up to view Trello submission pipeline: Chief Editor Rory Costello has made the BioProject submission pipeline visible to project contributors using the signboard app Trello. If you would like to see the pipeline — to know where your story stands in the review process or how many articles we have in the system — e-mail Rory for an invitation to become an observer.
---
In 2019, The Babe, edited by Bill Nowlin and Glen Sparks, was published by the SABR Digital Library. Articles on 50 notable games from Babe Ruth's larger-than-life career were included in the book.
All of the game stories from The Babe can now be read online at the SABR Games Project. These new stories from the book were posted online this week:
Click here to download the e-book edition of The Babe for free or get 50% off the paperback edition.
---
Five new game stories were posted this week as part of the SABR Games Project. Here are the new game stories:
New Games Project stories can be found at SABR.org/gamesproject.
Get involved: Have memories of a game you attended? Or a game you watched that caught your interest? Write about it! Writing for the Games Project is an easy way to get involved as a SABR member. Find out how by reading the Games Project FAQs section or checking out the Authors' Guidelines. We have editors and fact checkers who are willing to help you write your first article.
Social media: Follow the SABR Games Project on Twitter or Facebook to keep up with new stories and updates.
Read all stories from Comiskey Park greatest games book: Click here to read all stories from The Base Ball Palace of the World: Comiskey Park (SABR, 2019), edited by Gregory H. Wolf, online at the SABR Games Project.
---
Behind the Numbers: Baseball SABR Style on SiriusXM, a radio show hosted by former SABR Board President Vince Gennaro, is back at a new time. Listen to new episodes at 4:00-5:00 p.m. ET on Saturdays on MLB Network Radio.
You can also listen to archives of recent episodes on-demand on the SiriusXM Internet Radio app.
Behind the Numbers: Baseball SABR Style on SiriusXM focuses on examining and interpreting the statistical analysis that plays a critical role in baseball today. It airs weekly throughout the year on MLB Network Radio, available to subscribers nationwide on XM channel 89, Sirius channel 209, and on the SiriusXM Internet Radio App.
---
Please note: Only ONE entry per nomination will be considered (do not submit multiple nominations for the same award). For more information on SABR Awards, click here.
---
Here are some major headlines from recent weeks that we don't want you to miss:
All previous editions of This Week in SABR can be found here: https://sabr.org/content/this-week-in-sabr-archives.
---
We'd like to welcome all of our new SABR members who have joined this week. You can find all Members-Only resources at members.sabr.org and the Membership Handbook can be downloaded here.
Please give these new members a warm welcome and help them make the most of their membership by giving them the opportunity to get involved in their local chapter or a research committee.
You can find contact information for any SABR member in the online Membership Directory.
| Name | Hometown |   |   | Name | Hometown |
| --- | --- | --- | --- | --- | --- |
| Gary Ashman | Las Vegas, NV | | | Adam Lazarus | Dunwoody, GA |
| Tom Balsamo | Glen Burnie, MD | | | Michael Lewis | Portland, ME |
| Tami Bell | Richmond, CA | | | Terry McGee | Centreville, AL |
| Chris Derrick | Media, PA | | | Matthew McLawhorn | Hometown, IL |
| Bryan Dietzler | Oxford, IA | | | Bob Messner | Brookhaven, GA |
| AJ DiFillipo | Peabody, MA | | | Joseph Miller | Herndon, VA |
| Bob Ecklund | Lake Villa, IL | | | Robert Pusateri | Williamsville |
| Thompson Ford | Lake Forest, IL | | | Jessica Quiroli | Philadelphia, PA |
| Jeremy Gibbs | St. Peters, MO | | | Thomas Renyak | Bellerose, NY |
| Mike Grisz | Herndon, VA | | | Mike Risley | Louisville, KY |
| Charles Harm | Franklin, TN | | | Joel Rohan | Atlanta, GA |
| Mace Hibbard | Snellville, GA | | | Scott Simkus | Carol Stream, IL |
| Todd Hoppe | Portland, OR | | | Erik Sjogren | Elk River, MN |
| William Hutton | Kansas City, KS | | | Nelson Tishcoff | Mississauga, ON |
| Jeffrey Kraus | Staten Island, NY | | | William Wormsley | Pittsburgh, PA |
| Yanick Letourneau | Quebec City, QC | | | | |
---
Here are the new research committee updates this week:
Baseball Records: December 2020 newsletter
BioProject: Please give a warm welcome to Alan Cohen as the new Chief Fact-Checker for the BioProject editing team. We are seeking additional volunteers to serve as fact-checkers for future BioProject submissions. If you are interested in joining the team, please contact Alan.
Business of Baseball: Fall 2020 newsletter
Find all SABR research committee newsletters at SABR.org/research/committees.
---
Here are the new regional chapter updates this week:
Visit SABR.org/chapters for more information on SABR regional chapters.
---
Here are some recent articles published by and about SABR members:
Please note: Some articles may require a separate subscription to view online. SABR does not endorse, and is not responsible or liable for, any content that appears on a third-party website.
---
This Week in SABR is compiled by Jacob Pomrenke. If you would like us to include an upcoming event, article or any other information in "This Week in SABR," e-mail jpomrenke@sabr.org.
Have trouble reading this e-mail? Click here to view this week's newsletter on the web.
Are you receiving our e-mails? "This Week in SABR" goes out by e-mail to all members on Friday afternoons. If they're not showing up, try adding "sabr.notes@sabr.org" to your contact list to ensure they show up in your inbox (and not the spam folder.)
---
Originally published: December 18, 2020. Last Updated: December 18, 2020.
https://sabr.org/wp-content/uploads/2020/06/SABR-LatestNews-TWIS-2016.jpg
250
847
sabr
/wp-content/uploads/2020/02/sabr_logo.png
sabr
2020-12-18 14:27:05
2020-12-18 14:28:12
This Week in SABR: December 18, 2020