This Week in SABR: September 3, 2021
Welcome to "This Week in SABR!" Click here to view this week's newsletter on the web. Please note: The SABR office will be closed on Monday, September 6 for the Labor Day holiday. Here's what we've been up to as of September 3, 2021:
---
There's still time left to sign up for the third annual SABR/IWBC Women in Baseball Conference, hosted by SABR and the International Women's Baseball Center, which will be held virtually on September 10-12, 2021.
The conference will be highlighted by keynote speaker Dana Bookman, founder and CEO of Canadian Girls Baseball and the founding Vice President of American Girls Baseball; a presentation about an upcoming documentary film, Her Game is Hardball, with director/producer Mark Durand and writer/producer Selena Roberts; a virtual awards ceremony and pylon unveiling; panel discussions on international umpires, with Lisa Turbitt, Sophiyah Liu, Eva Moo, and Perry Barber; researching women's baseball with Cecilia Tan and Kate Haines; and personal stories, with Laura Hirai and Suzie Hunter; and more insightful research presentations.
Attendees can also participate in the SABR/IWBC Women in Baseball Raffle. Prizes include a Rockford Peaches jigsaw puzzle; Phil Niekro signed baseball; Bob Feller signed baseball; Colorado Silver Bullets baseball cards; AAGPBL bobblehead; and more.
This year's conference theme is "Breaking Barriers: Women in Baseball Around the World."
Register: Click here to register online. The conference is open to all baseball fans.
Cost: Virtual attendance is $50 per person, and includes access to all panels and presentations, pylon unveiling, a digital program, and 1 raffle ticket. Additional raffle tickets are $5 apiece.
Contact: For questions, please contact Leslie Heaphy or Kat Williams.
For more details, visit SABR.org/women-in-baseball-conference.
---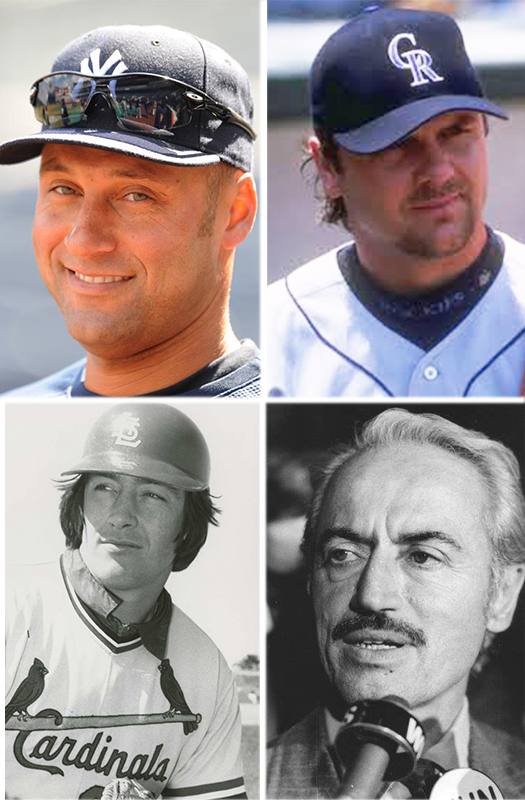 On Wednesday, September 8, the Baseball Hall of Fame welcomes four new members: Derek Jeter, Ted Simmons, Larry Walker, and Marvin Miller. SABR celebrates Cooperstown's Class of 2021 by highlighting Research Collection articles featuring the new inductees.
SABR's BioProject provides comprehensive biographies of Jeter, Simmons, Walker, and Miller. Author Alan Cohen follows Jeter from a childhood encounter with another Hall-bound Yankee through nearly two decades of stellar play in the Bronx. Gregory Wolf explores Simmons's spectacular offensive output, resulting in late-blooming Hall of Fame recognition. Cohen chronicles Walker's path to becoming only the second Canadian-born player selected for Cooperstown. Bill Johnson's new biography of Miller remembers a groundbreaking career of labor leadership.
SABR's Games Project offers career-spanning stories for the three players in the Class of 2021, including nine new articles. Coverage of Jeter begins with a snow-delayed Opening Day in 1996, continues through his iconic "Jeter Flip" and "Mr. November" games of 2001's postseason, late-career highlights like his 3,000th hit and final game at Yankee Stadium, and visits eastern Pennsylvania to catch him on a 2013 minor-league rehab assignment.
Simmons appears in a 1969 minor-league game as a "designated pinch hitter" — a test program foreshadowing baseball's future. Subsequent articles evoke big-batting days with the St. Louis Cardinals and Milwaukee Brewers, along with a stellar performance when those teams played in the 1982 World Series. Recast as a reserve during the twilight of his career, Simmons leads the Atlanta Braves' "Bomb Squad," boosting morale and contributing clutch pinch-hits.
Walker's journey begins a long way from fame, as an undrafted teenager on a roster drawn from three different big-league farm systems, and that's where the Games Project finds him in Utica in 1985. Later articles catch him on the upswing as a Montreal Expo, with his first career two-homer game and a clutch hit against a Canadian countryman; show him bashing baseballs around Coors Field with the Colorado Rockies; and conclude his career with the St. Louis Cardinals in his only World Series appearance.
Find all published SABR biographies for Baseball Hall of Fame inductees by clicking here.
---
As a SABR member, you have vast resources and benefits at your disposal. With so much information at your fingertips, we realize it can be overwhelming to absorb it all! The SABR Member Benefit Spotlight series identifies and explains some of the most valuable features of your membership. We hope this allows you to take full advantage of all SABR has to offer.
This month's issue shows you how to join additional chapters, research committees, and chartered community groups. While your primary chapter may be the one closest to you geographically, all members are eligible to join any SABR group that interests you!
Click here to watch a short video on how to join additional SABR chapters, committees, and chartered communities.
— Scott Carter
---
In 2022, SABR's Negro Leagues Research Committee will host the SABR Jerry Malloy Negro League Conference, which will be held on June 2-4, 2022, in Birmingham, Alabama. In addition to two days of research presentations and player/author panels, attendees will also enjoy special presentations about local black baseball and a baseball game with the Birmingham Barons.
This interdisciplinary conference welcomes proposals for oral and poster presentations from all research fields. Previous presenters have included college faculty, public school teachers, graduate students, and independent scholars. Presentations may focus on any topic related to the Negro League centennial, black baseball in Birmingham, or other related topics, especially the Negro Southern League. Some possibilities include: Rube Foster; the 1920 season; the formation of the NSL, the formation of the NNL, the original eight teams, and so much more.
Please email your proposal as a Word attachment to Dr. Leslie Heaphy at Lheaphy@kent.edu before March 1, 2022.
Click here to read the full announcement at SABR.org.
---
Add a new baseball book to your collection from the SABR Digital Library:
When the Monarchs Reigned: Kansas City's 1942 Negro League Champions
Edited by Frederick C. Bush and Bill Nowlin
Associate editors: Carl Riechers and Len Levin
ISBN (ebook): 978-1-9701-5952-3, $9.99
ISBN (paperback): 978-1-9701-5953-0, $29.95
8.5″ x 11″, 268 pages
Click here to read the full description of this book at SABR.org.
SABR members, get this e-book for FREE!
Having trouble downloading our e-books? To view PDF files on your computer, click here to download the free Adobe Reader software. Having trouble downloading e-books to your Kindle, Nook, Sony Reader or iPad? Click here for additional help.
---
SABR chapters and committees are encouraged to set up virtual meetings to stay engaged with our members throughout the world at SABR.org, as part of our Stay Home With SABR initiative to assist in limiting the spread of the COVID-19 coronavirus pandemic.
Can't-Miss Event: SABR's Ken Keltner Badger State Chapter will hold a virtual meeting at 7:00 p.m. CDT on Thursday, September 9. All SABR members are invited to attend. We'll hear from Tim Dillard, Milwaukee Brewers broadcaster and former major-league pitcher for parts of four seasons. He was in the Brewers' minor league system for 16 years; he is a character, witty, and the most "lefty" right handed pitcher of all time. Click here to register in advance for this meeting.
Video Replays: This week, we heard from Mathewson-Plank Chapter meeting in Central Pennsylvania. Click here to view more video replays of virtual SABR events.
Here are some more upcoming virtual events you can attend online; check the Events Calendar for complete details:
September 4: Talkin' Baseball: Steve Steinberg (9:00 a.m. EDT)
September 9: Ken Keltner (WI) Chapter meeting with Tim Dillard (7:00 p.m. CDT)
September 10: SABR/IWBC Women in Baseball Conference (4:00 p.m. EDT)
September 11: SABR/IWBC Women in Baseball Conference (11:30 a.m. EDT)
September 12: SABR/IWBC Women in Baseball Conference (1:00 p.m. EDT)
In addition, the following events will be held in person:
September 4: SABR Night with the Scranton/Wilkes-Barre RailRiders (Moosic, PA)
September 11: Chicago-Milwaukee chapter ballgame and meet-up (Beloit, WI)
Find more upcoming SABR meetings on our Events Calendar page.
---
Baseball fans, tune in this season to SABRcast with Rob Neyer, a weekly podcast hosted by award-winning author and longtime SABR member Rob Neyer.
Episode #126 on Monday, August 30 featured Josée Tellier, a Montreal-based artist known for her portraits and re-imagined baseball card illustrations. She recently won a competition to benefit the Josh Gibson Foundation with an original design of the Negro Leagues great. In 2019, she began a series of illustrations of Montreal Expos legends, including Andre Dawson, Gary Carter, and Rusty Staub. She has collaborated with costume designer Dominique Lemieux to develop a collection for the Séptimo Dia touring arena show by Cirque du Soleil. She has also illustrated a series of popular children's novels, Le journal d'Aurélie Laflamme.
Visit SABR.org/sabrcast to listen to the full episode.
Subscribe to SABRcast on your favorite podcast networks, including Apple Podcasts, Amazon Music, Spotify, or Stitcher, and listen to each episode as soon as it's released on Mondays. To learn more, visit SABR.org/sabrcast.
---
One new biography was posted this week as part of the SABR Baseball Biography Project. Here is the new bio published this week:
All new biographies can be found here: SABR.org/bioproject
Find any SABR biography: You can visit sabr.org/bioproject to search for any player — or manager, executive, scout, spouse, broadcaster, or umpire — who appears in the SABR BioProject. In addition, we have pages for Ballparks, Broadcasters, Executives, Games, Managers, Scouts, Spouses, Umpires, Writers, people who were Famous Outside Baseball, and a lot more.
---
On August 24, 1921, the Pittsburgh Pirates arrived at the Polo Grounds in first place in the National League, with a 7½-game lead over the New York Giants. But John McGraw's Giants swept a doubleheader that afternoon and followed up by beating the Pirates on each of the next three days for a five-game series sweep, turning the NL pennant race around. By September 9, the Giants had sole possession of first; their surge of 20 wins in 24 games between August 24 and September 17 sewed up the pennant.
The SABR Baseball Games Project, in support of SABR's Century Committee's celebration of the centennial of the 1921 baseball season, commemorates the 100th anniversary of the Giants' pivotal sweep with new articles by SABR member John Burbridge Jr. on their 10-2 win in the first game of the series and 3-1 win in the fifth game.
Follow the Games Project and Century Committee throughout 2021 for coverage of the 1921 season. The Games Project has recently published 21 new articles on historically significant games from August 1921.
Highlights of August 1921 include the first major-league game broadcast on commercial radio, an extra-inning thriller in New York, cycles by George Sisler and Dave Robertson, iron-man pitching by Dixie Davis and Mule Watson, and a milestone home run at Braves Field.
— John Fredland
---
Six new game stories were posted this week as part of the SABR Games Project. Here are the new game stories:
New Games Project stories can be found at SABR.org/gamesproject.
Get involved: Have memories of a game you attended? Or a game you watched that caught your interest? Write about it! Writing for the Games Project is an easy way to get involved as a SABR member. Find out how by reading the Games Project FAQs section or checking out the Authors' Guidelines. We have editors and fact checkers who are willing to help you write your first article.
---
Behind the Numbers: Baseball SABR Style on SiriusXM, a radio show hosted by former SABR Board President Vince Gennaro, is back at a new time for the regular season. Listen to new episodes at 8:00-9:00 p.m. ET on Saturdays on MLB Network Radio.
You can also listen to archives of recent episodes on-demand on the SiriusXM Internet Radio app.
Behind the Numbers: Baseball SABR Style on SiriusXM focuses on examining and interpreting the statistical analysis that plays a critical role in baseball today. It airs weekly throughout the year on MLB Network Radio, available to subscribers nationwide on XM channel 89, Sirius channel 209, and on the SiriusXM Internet Radio App.
---
Here are some major headlines from recent weeks that we don't want you to miss:
All previous editions of This Week in SABR can be found here: SABR.org/this-week-in-sabr-archives.
---
We'd like to welcome all of our new SABR members who have joined this week. You can find all Members-Only resources at members.sabr.org and the Membership Handbook can be downloaded here.
Please give these new members a warm welcome and help them make the most of their membership by giving them the opportunity to get involved in their local chapter or a research committee.
You can find contact information for any SABR member in the online Membership Directory.
| Name | Hometown |   |   | Name | Hometown |
| --- | --- | --- | --- | --- | --- |
| John Barrett | Hooksett, NH | | | Justin Klugh | Baltimore, MD |
| Michael De Soto | Arlington, VA | | | Dean Krause | Lebanon, OH |
| Alan Drooz | San Diego, CA | | | Dan Seppings | Ashford, ENG |
| Kevin Flynn | San Leandro, CA | | | Maxine Stansell | Seattle, WA |
| John Hunter | Philadelphia, PA | | | Charles Walling | Fayetteville, AR |
---
Here are the new research committee updates this week:
Find all SABR research committee newsletters at SABR.org/research/committees.
---
Here are the new regional chapter and chartered community updates this week:
Visit SABR.org/chapters for more information on SABR regional chapters.
---
Here are some recent articles published by and about SABR members:
Please note: Some articles may require a separate subscription to view online. SABR does not endorse, and is not responsible or liable for, any content that appears on a third-party website.
---
This Week in SABR is compiled by Jacob Pomrenke. If you would like us to include an upcoming event, article or any other information in "This Week in SABR," e-mail jpomrenke@sabr.org.
Have trouble reading this e-mail? Click here to view this week's newsletter on the web.
Are you receiving our e-mails? "This Week in SABR" goes out by e-mail to all members on Friday afternoons. If they're not showing up, try adding "sabr.notes@sabr.org" to your contact list to ensure they show up in your inbox (and not the spam folder.)
---
Originally published: September 3, 2021. Last Updated: September 1, 2021.
https://h2j7w4j4.stackpathcdn.com/wp-content/uploads/2020/06/SABR-LatestNews-TWIS-2016.jpg
250
847
sabr
/wp-content/uploads/2020/02/sabr_logo.png
sabr
2021-09-03 00:01:32
2021-09-01 23:20:49
This Week in SABR: September 3, 2021