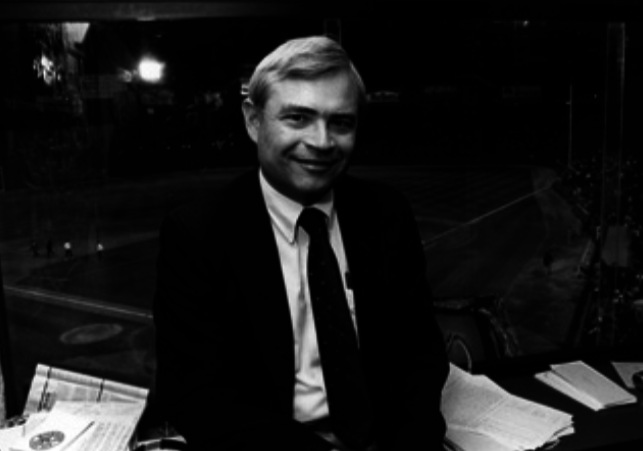 ---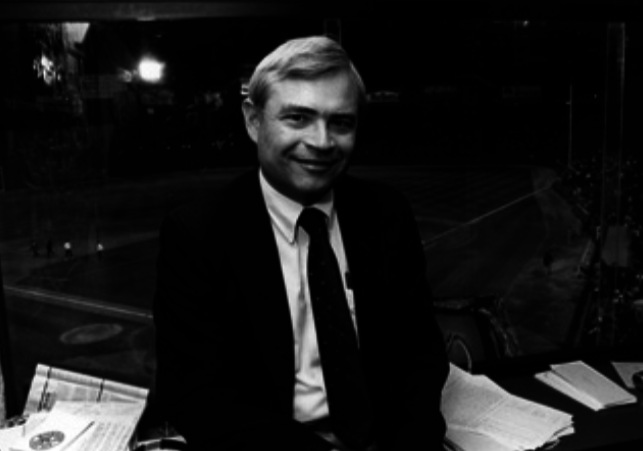 Curt Gowdy was the Cowboy behind the mike. Ned Martin quoted Ted Williams and Eudora Welty. Ken Coleman meant the Jimmy Fund. Bob Starr had a gentle lummox William Bendix kind of charm. In evaluating the Red Sox middle-to-late part of the 20th century, all helped baseball bewitch. Ken Harrelson was the Red Sox' Southern-fried television analyst. Jon Miller mimed Vin Scully in English, Spanish, and Japanese. Don Orsillo left his father's farm for 4 Yawkey Way. Jerry Remy fled the Red Sox infield to "talk a good game," said the Boston Globe. Dave O'Brien traded the Mets for the Sox and ESPN. All treated losing like Starr's partner after an Olde Towne Team loss. "Joe Castiglione is sitting here, looking like he's been harpooned." In New England the Red Sox are required study; thus, their Voices take defeat hard.
In 2015 Castiglione set a record for consecutive years broadcasting Red Sox radio and/or TV: 33 since 1983, topping Martin's 32 (1961-92). Long ago Joe left a Hamden, Connecticut, youth to make Sox wireless his baseball leitmotif. "I've never met a man more comfortable in his own skin," mused club president Larry Lucchino, Joe's warmth a reason why soldiers of Red Sox Nation in pink and red shirts, pants, and hats fill parks wherever the Townies play. "We travel well," Joe describes their Diaspora, packing Camden Yards, Safeco Field, and Anaheim's Big A. O'Brien adds: "There may be somewhere without Sox fans, but I haven't found it."
In 2010, Forbes magazine wrote, "[They] are so devoted they top our list of 'America's Best Sports Fans.'" Under extreme makeover, Castiglione evolved into everything Red Sox from a boyhood that was "all Yankees," he said, little 1950s and early '60s Sox interest west of the Naugatuck River. "Later, the area swung Boston's way, but back then Mel Allen was the globe." Once the Yankees' radio/TV Voice hailed a taxi at night in Omaha, the driver not seeing who it was, and said, "Sheraton, please." The cabbie swiveled his head, almost driving off the road." Variety termed Allen among "the world's 25 most recognizable voices."
Yogi Berra said, "If you can't imitate him, don't copy him." Emulating Mel, Joe called backyard fungos like the 1940-64 Yankees announcer, asked Santa for a beer glass to pour sponsor Ballantine Ale, and half a century later confessed that "Allen's the reason I'm in broadcasting today." A "great vocabulary and greater pipes" sustained rout and rain. "He'd weave stories, so tough to master, never caught short" on a two-strike tale. "A Gowdy was great on nuts, bolts, and action." Mel was the nation's ultimate celebrity sportscaster, a thespian, not technician, whose 1964 pinstriped firing stunned.
"Allen was almost bigger than the product. I wonder how he'd have handled the Yankees' fall" – no 1965-1975 pennants after 14 in the prior 16 years. "As it was, they lost their identity," harder to accept than the banal 1950s and early '60s Sox having none. At Colgate University, Joe aired football and basketball, was a campus disc jockey, hitchhiked 23 miles each Sunday to a commercial outlet to "spin records and read news," and called the best part of college "Cooperstown being down the road," his priorities sure. In 1967 he interned at Yanks affiliate WDEW Westfield, Massachusetts, for the first time visiting Fenway. "It knocked me out," said Castig, seeing the light. No Evil Empire could match the Sox' Impossible Dream.
Castiglione graduated in 1968, then, "hating it," moonlighted as a part-time salesman before getting a master's at Syracuse. To pay tuition and "bolster my résumé," Joe also worked at NBC-TV's local WSYR as voiceover, Hollywood Matinee fill-in, and The Today Show cut-in. In 1970, at Youngstown, Ohio, Joe's "one-man band" played football, hoops, sports at 6 and 11 P.M., and "six radio shows a day for very little money." He spent the next decade in Cleveland news and sports, covered the Edmund Fitzgerald's 1976 sinking in Lake Superior, and aired another wreck, the 1979 Indians. In 1981, Joe called the Brewers' split-season title, paraphrasing Russ Hodges: "The Brewers win the second half! The Brewers win the second half!" Cheeseheads still chant it among bowling, brats, and beer.
A year later Joe returned to Cleveland's struggling The Sports Exchange, TV's first regional network, headed by Ted Stepien. By January 1983, all staff but Castig had been canned. One day mikeman Casey Coleman, Ken's son, sent Joe's tape to Sox flagship WPLM, looking to replace Jon Miller. Brewers broadcast guru Bill Haig gave a thumbs-up: "especially good on word-pictures." What wasn't good was timing. Joe was scheduled to meet Monday with Stepien – "my assignment, to bring doughnuts." Instead, he flew to Boston four days earlier to interview, meet WPLM head Jack Campbell, and visit Coleman pere Friday night.
Next morning Campbell cautioned, "You've got the job, but don't tell anybody. We'll announce you Monday." In Ohio, neither doughnuts nor Joe arrived, Stepien refusing later to talk to him on the phone. The ex-college d.j. – "Give me the Rolling Stones, the Kinks, and my favorite, Motown Sounds" – found Ken caught between Bing Crosby and Patti Page. "Sort of like the Red Sox fan, likes things as they were." On the field, 1983 sixth-place things were dismal. "People ask, 'How do you sound excited working when your team is down 20 games?'" said Joe. "They don't understand that no two games are the same. It's like a lousy long-playing record. You look for a good song to play."
Jim Rice's song played a league-high 39 homers and 126 runs batted in. Boston's purest hitter post-Kid played another melody. Wade Boggs was superstitious, "eating chicken at all his meals," said Marty Barrett, "and running sprints at the same time each night." He was experimental, as girlfriend Margo Adams showed, and a Merlin at bat, taking the 1983 and 1985-1988 AL titles (.361, .368, .357, .363, and .366, respectively). The most abiding tune, "Yastrzemski Song," by Hub radio/TV's Jess Cain, to the melody of "The Hallelujah Chorus," hailed a man who retired in 1983, running around the field, handshaking everywhere, then playing left field for the first time since cracking his ribs in 1980: "The love-in complete," said Ned. To Peter Gammons, it "passionately explain[ed] that he understood what makes the Olde Towne Team what it is."
Yastrzemski played every inning in an Olde Towne Team uniform. In 1981 George Steinbrenner and Ted Turner offered to pay him "three times what I could make here. But I didn't want to leave," Yaz said. "I liked it here. I liked … what the [Red Sox] are." No. 8 ranks first lifetime in AL games (3,308) and third in total at-bats (11,998), major-league baseball games, and walks (1,845), sixth in total bases (5,539) in the league, and ninth in AL RBIs (1,844) – at 43, also oldest to play center field. "I saw the sign that read, 'Say It Ain't So, Yaz,' and I wish it wasn't," he had said, thanking the Nation, Jean and Tom Yawkey, and third-year manager Ralph Houk in his 1983 farewell. "I wish we could have been together for [all] 23 years, "cause I know we'd have won more pennants."
None of this reassured Joe as a rookie – "part of Jack Campbell's cost-cutting program," he joked, living the whole season at Boston's Susse Chalet, his family in Cleveland because it couldn't sell the house. "Twenty-six dollars a night," he said. "But the worst part was packing my trunk and taking it to the basement each time we went on a road trip so I wouldn't be charged for the room while I was away." Meanwhile, Hub print treated him, as Ring Lardner once wrote, like a side dish it declined to order. Why was Miller in Baltimore? Why wasn't Martin on the wireless? The Boston Herald's Jim Baker had Joe fired. "I got ripped a lot that first year," said Castig, "and it hurt."
By 2000 the Globe's Bob Ryan wrote, "It's time someone finally said it: Joe Castiglione is the official 'Voice of the Boston Red Sox.'" Typically, Joe demurred. "It's different today," he said, "with the proliferation of media. There's [cable], over-the-air TV, and radio – not like the good old days. To call one person that would be misleading." In turn, Ryan cried tommyrot: "The No. 1 radio man will always be the essential link between a … team and its fans." In New England "that voice belongs to Joe Castiglione." Ryan conceded Joe's "voice ripe for parody – comparatively thin and reedy and nasally." Offsetting it were traits undervalued in 1983, including decency, credibility, and precision – Jack Craig said that if a ground ball took three hops, Castiglione would say three, not two or four – and encyclopedic baseball knowledge.
"I've always been blessed with good recall," he told Ryan. "But I have a system. I start a file card on every player. I still do them in longhand because it helps the recall process." His freshman year, Joe recalled growing up and watching the Mantle–Maris Yankees on New York Channel 11, their manager Houk, decorated in the Battle of the Bulge. The Major's pinstripes made the 1961-1963 World Series. "You assumed the Yanks'd make it every year," said Joe. In late 1983, the now-Sox skipper asked how he was. "I don't know, Ralph," said Castig. "I'm not sure I'm coming back." His boyhood manager put an arm around the rookie. "Everybody's happy," Houk said. "You're doing a hell of a job." At that moment, Joe likely mourned being too young to have served the Major at Bastogne.
The 1984-85 Red Sox finished fourth and fifth, respectively. John McNamara, a baseball lifer, succeeded the retired Houk as manager. March 1986's Sport magazine wrote, "The Red Sox are the most boring team in baseball." On April 29 they hosted Seattle on a "chilly, misty night," said Joe, "the kind of game that brings out only the diehards – and the announcers." In 1984 Roger Clemens went 9-4; 1985, had shoulder surgery; 1986, needed a van to move his hardware. "This night the basketball Celtics played a playoff set at Boston Garden – a big game," said Martin. "So our [WSBK] TV audience was limited, and so was the crowd" – 13,414.
Before the game, Castiglione had a premonition. "I knew Roger was on his game that night, because batters usually hit a lot of fouls off him." Tonight the M's swung and missed. "Something's going to happen," Joe said. What did: "the most memorable game of the most memorable season of my life." (He spoke before 2004.) Clemens had 12 K's by the fifth inning. Word wafted to the Garden, which began emptying: The Rocket was on a roll. Steve Carlton, Nolan Ryan, and Tom Seaver held the bigs' nine-inning 19-strikeout mark. Roger K'd the last two batters in the seventh inning, the side in the eighth, and the first two in the ninth – 19 total. Martin spoke as if still on radio: "And here they come up at Fenway! A new record! Clemens has set a major-league record for strikeouts in a game! Twenty! What a performance by the kid from the University of Texas!" Joe gulped, "One after another – and I felt a thrill like I've never known in baseball." Clemens added: "The strikeouts just came on coming." He finished 24-4, had a league-low 2.48 ERA, and won the Cy Young and MVP.
"We weren't a powerful club, not a lot of homers, but fate seemed to like us," said Joe, ironically, as fate later showed. One ninth inning Boston trailed Texas, 1-0, as Barrett and Steve Lyons each slid into second base – "me from one direction," Lyons said, "Marty the other." Outfielder George Wright's throw took a wrong turn into the Rangers' dugout. Both scored: Sox win. Another day, down, 2-1, in the 12th, Don Baylor popped between home plate and third base to ex-Townie Rick Burleson, "of all people," laughed Castiglione, "playing for the Angels at the end of his career." Rick's dropped pop and a balk helped Boston win, but masked a flaw. On CBS Radio "Home Town Inning," Joe called Dave Henderson the fastest Sox runner. Analyst Sparky Anderson was amazed: "If you think that guy's fast, that shows how slow your team is."
Despite being station-to-station, the Red Sox rallied from a 3-1 game deficit to win the LCS, then 13 times needed only one pitch in the 10th inning of Game Six to take the Series against the Mets. Michael Dukakis had just finished a gubernatorial debate with his GOP foe "when I saw the ball go through Bill Buckner's legs." Waiting to interview the world champion Sox in their clubhouse, Joe heard a clubhouse security agent turn on his radio. Finding the score tied, Castig raced for the booth, reached the runway, and heard a roar. "I never saw the play, but my heart sank. I knew it was over." In 2001, former US Senator George Mitchell, hoping that life "lasts long enough to see the Red Sox win a World Series," said that 1986 still made him ask: Was he dreaming, "kidding himself once more?"
In California, a Bostonian called by The Wall Street Journal "America's greatest thinker on crime, punishment, and historical order," had been at a meeting "at the worst possible time." Adjourning, James Q. Wilson raced to his Los Angeles hotel. "No longer would Red Sox fans have to bear the crushing hex put on them by the sale of Babe Ruth to the Yankees, a sale that seemed to end forever any chance of the Sox owning the baseball world." In his room, the Harvard professor watched "the most famous, agonizing, gut-wrenching [10th] inning of baseball that I ever watched." One more out – and "the Sox would own the world. I would be ecstatic, emotionally young forever."
As the preceding chapter on Ken Coleman tells, Bob Stanley and Mookie Wilson staged "an extraordinary battle." Once the Boston reliever's seventh pitch scored the tying run, "all was [still] not lost. If Mookie were put away, the Sox could score again in the 11th. One more strike and Red Sox fans could breathe." Their Wilson picked up the telephone, dialed the area code of his home and first six digits of his number, and readied to press the last digit on Mookie's out: "My wife and I could celebrate at least staying alive." Instead, he put the phone back in its cradle. "My youth was over. I was now, at least for baseball, an old man. The Curse lived on." Back east, a friend asked if he knew that Buckner, so depressed at missing the groundball, had leapt in front of a speeding bus. "Oh, no," Wilson said. "Not to worry," the friend replied. "It went between his legs."
Half a million graced a Sox post-Game Seven parade through Boston. "For me it took away some sting," said Castiglione. "Not for McNamara." Entering skip's office to say goodbye, Joe found Mac disconsolate. "Why me, why me?" John said. "I go to church, have my whole life. I don't understand why this had to happen." Neither did Wilson, ultimately teaching at Boston College near children and grandchildren. Said The Wiser but Sadder Man prior to his death in 2013: "They have a legal obligation to be within 30 minutes of Fenway Park."
American dramatist and humorist George Ade said, "The time to enjoy a European tour is about three weeks after you unpack." It took a long time to unpack 1986's baggage. In 1987, Joel Krakow of the Newton, Massachusetts, Captain Video Store knew where to put the 1986 Series highlight film: the horror/science fiction section. That fall McNamara sat in the dugout before the last regular-season game: "You know, I sit here thinking and I still can't believe we lost the [Series] sixth game. … There's a part of me that just doesn't believe it: one f – ing out. That's all we needed was one f – ing out."
Retiring, Reggie Jackson batted a last time in 1987 in Boston. Sherm Feller, 69, had been Sox P.A. announcer since 1967, mixing beloved understatement and exacting prose. Each game began, "Ladies and gentlemen, boys and girls, welcome to Fenway Park." Feller's drip-drop cadence kept it simple – "Number 23, Luis Tiant. Pitching, Tiant" – due to calling a game without his dentures. On Jackson's adieu, Feller, who died in 1994, said memorably: "Number 44, Mr. October." Reggie's pending absence was not Boston's sole change. In 1988, Margo Adams, a former mortgage broker, filed a $6 million suit for breach of oral contract against Boggs, charging that he reneged on repaying her for time and wages lost traveling with him on the road. The media went kablooey. On TV's Donahue, Margo described the married Wade crashing teammates' rooms and shooting compromising photos of them with other women – maneuvers aka "Delta Force." No force could save the skipper, radio talk crying "Knife the Mac!"
Mrs. Yawkey convened a meeting, Mac leaving July 14 – Bastille Day – with his head, if not job. Coach Joe Morgan – Castiglione's best friend, Walpole native, and Massachusetts Turnpike worker – became "interim manager." One Joe loved the other's line: "Interim is not in my vocabulary. I am the manager until they tell me otherwise." Morgan Magic began with a 12-game win streak and AL record 24 straight wins at home. Rice and Evans had defied Mac. This skipper didn't cower. When Morgan inserted a pinch-hitter to bunt, Rice yanked him into the dugout runway. Joe traded shoves, emulating Studs Terkel: "I'm the manager of this nine." Margo's squeeze hit .366. Clemens' eight shutouts were Boston's most since Ruth. The Townies hailed Oakland's LCS sweep by uncorking a bender on their flight home. On Hub TV, Rocket mourned having to carry his luggage and how "there are … things that are a disadvantage to a family here." To Castig, the Sox were making the Bronx Zoo look like Mayberry.
Joe thought Morgan "the most colorful-ever" Sox skipper" – the "original Honest Abe." By 1989, Boston platooned catchers: lefty Gedman, "a great guy," and righty Rick Cerone, "not a great guy." One night Chicago threw righty Shawn Hillegas. After the pre-game show, Joe said, "Maybe I should have asked this on air, but why is Cerone, not Gedman, catching?" Morgan said: "Hillegas is left-handed. Therefore, Cerone's going to catch." Castiglione shook his head. "Hillegas is right-handed­." "Oh, gees, I screwed up," said Morgan, not saying gees. "What am I going to tell Gedman?" Joe went to find him and confess. Naturally, Cerone homered to win the game, Castig musing, "Should I give the background, or not? No, Joe's my friend. What good would it do to say, 'Here's why Cerone's playing'? I let it go, we'll see what happens." Since Morgan played the track, writers asked, "Did you have a hunch, like a horse, playing Cerone?" Joe said, "No, I screwed up. I thought Hillegas was a lefty. That's why Cerone played, and why I apologized to Gedman." On second thought, said Castig, "Maybe Morgan is George Washington, who never told a lie."
By turn, Adams posed nude in Penthouse magazine. Boggs confessed he was addicted to sex, Boyd called him "a sex fiend," and in Tampa a bomb threat forced a change in planes. Around the league, fans chanted "Mar-go!" GM Lou Gorman, trying to trade Wade, whiffed. "You'd think the law of averages would even out – that they would win one," said Bobby Doerr. You'd think. In August, the Sox added Yaz's retired number 8 on the right-field façade to Williams' No. 9 and Cronin's 4 in 1984 and Doerr's No. 1 in 1988. The list scrawled half-taunt and half-lament: 9-4-1-8, the month of the last Red Sox world title. Seeking less to forget than redeem himself, Bill Buckner made the 1990 Sox: cheered Opening Day, but retired by June. The year ended aptly: Boston won its third AL East title in five years, lost LCS Games One-Three, then imploded. Clemens argued a call, shoved one umpire, and threatened another. Players scuffled, reliever Larry Andersen leaving the pen to restrain Rocket's rage. Oakland swept. A Herald cartoon drew Clemens as a baby on the mound, a bottle in one hand, shouting "Bleep!"
"Some Okie I am," Sooner-born and ex-Angels Voice Bob Starr said, succeeding Coleman on 1990 Sox radio. Joe recalled "his wearing plaid dotted shirts, loving golf, and Ken-like vintage music." Three years later Starr returned to Anaheim, dying in 1998 from a lifetime of chain smoking. He missed 1995: New flagship WEEI aired the LCS first "wild card" preamble – best-of-five Division Series (DS). 1996: Boston fired a Kennedy – skipper Kevin – unthinkable by ballot. In a designated hitter's league, Rocket singled "up the middle," said Joe. "Can you believe it?" – a phrase to use again. Jimy Williams became manager, speaking "Jimy-wocky": e.g., "If a frog had wings, it wouldn't bump its booty." 1998: Slugger Mo Vaughn, arrested for drunk driving, braved a withdrawn Sox contract and mandatory psychological test for alcoholism. Acquitted, he felt insulted. "You can't ignore the human equation," said Joe of Mo's exit. GM Dan Duquette, staff explained, was not a people person.
In 1998 Montreal's Pedro Martinez joined the Sox, proceeding to throw a 1-0 complete game – "First at Fenway in a decade!" chorused Joe. 1999: Before Fenway Park's first All-Star Game since 1961, Ted Williams rode a golf cart through a hole in the center-field bleachers down the warning track, along the boxes, around the plate, and toward the mound, All-Stars circling The Kid. The crowd went over the moon. ""Do you ever smell the wood burn?" Ted asked Mark McGwire of bat on ball. Rafael Palmeiro refused to leave. "That's the chance of a lifetime." MVP Martinez K'd five of his six first batters, the sport seldom more certain of its place. Boston rallied against Cleveland to win the Division Series, three games to two, the final 12-8 "on the best pitcher in baseball's … six no-hit innings in relief coming off an injury," Joe said of Pedro.
In 2000 Ned Martin entered the Red Sox Hall of Fame, whose room shook on his introduction. The ovation stunned him, bringing tears. In 2002 Teddy Ballgame, 83, died of cardiac arrest. That July 22, Ned attended the Ted Williams Tribute at Fenway Park – his first trip back since a 1992 firing. "He'd had a bad back and knee and hip replacement, but wouldn't miss it," said son Roley. "He just enjoyed the whole night, especially the videos at the end, the Field of Dreams song, [and] 'Taps.'" Martin, Yaz, and Gammons reminisced in an on-field ceremony. Ned saw longtime employees, as always treating them like royalty, and spoke to Remy, Pesky, Gowdy, and Coleman, who said, "He had a style all his own. He loved the game, and the history of the game."
Castiglione called next morning by cell phone, finding Martin, 78, "very chipper." Ned flew to Raleigh-Durham Airport, caught a shuttle bus, and had a massive heart attack. The Sox were playing when his death reached Fenway. Red-eyed, Remy reported it on the New England Sports Network (NESN), later saying, "I think what made it tougher is that I'd just seen him the day before." A moment of silence and a video screen goodbye preceded the next game. "Those who always feel the 'good old days' were better than the present might … this time … be right," wrote the Globe's Bill Griffith. Said daughter Caroline: "[Papa's] love was his family [wife Barbara, of 51 years, three children, and nine grandchildren], and his dogs and cat, Emily, and the country." Mercy! Martin was the cat's meow.
Ned would have nodded as USA Today called Fenway Park "a cathedral," daily filled pew by pew. Even on the road the Red Sox were SRO. Baltimore's color scheme skewed red. Castig met a man who had seen every Boston game in Kansas City since it got the A's in 1955. In Anaheim, the Nation filled seats of many leaving after the seventh inning to miss traffic. "We're the home team," Joe laughed, "for at least half of our games away." On December 20, 2001, the Yawkey Trust accepted an estimated $660 million offer, plus $40 million in assumed debt, for Fenway Park, the Red Sox, and 80 percent of NESN from a group led by former Orioles head Larry Lucchino, Hollywood producer Tom Werner, hedge-funds manager John Henry, and other partners. The sale saved Fenway, though that was not then clear. Within a decade it became baseball's model franchise, selling out a big-league record 820 straight games.
Boston won a wild-card spot in 1998-99 and 2003, but again dropped the Division Series or League Championship Series. Defeat obscured Sox building blocks. Knuckler Tim Wakefield seven times won 10 or more games starting and relieving, his ERA and record as good as 2.81 and 17-8, respectively. Jason Varitek became the regular catcher, three-time All-Star, and "our rock," said Joe. Another block arrived in 2001 already having driven in 165 runs in a year – baseball's most since Foxx. Manny being Manny in later years meant loafing, faking injury, and huffing "Boston doesn't deserve me" – teammates, sick of him, agreed. Then, Manny Ramirez meant awesome strength, plate discipline, and hand-eye skill. He could spray the ball, pull 400 feet with one hand, and hit best when it counted most: e.g., record 28 postseason homers. In 2004 Manny hit 44 doubles; 2005, parked 45 dingers; 2006, batted .321. His real au revoir was 2007's LCS, with nine walks and 10 RBIs.
Four straight years Johnny Damon topped the Red Sox in steals. Boston had two 20-win pitchers for the first time since 1949: Derek Lowe 21-8, Pedro 20-4. In 2003 David Ortiz, a 6-foot-4, 230-pound Dominican who greeted people as bro or papi – hence, Big Papi – left Minnesota for the Fens: .288, 31 homers, and 101 RBIs the worst of his next five years. The Sox hit a franchise-record 238 homers, scored a second-best-to-1950 961 runs, beat Oakland in a five-game Division Series, then went forth to the LCS – the usual rival, with the usual result. "I'll never forget Martinez jabbing a finger into the side of his head," said Castiglione of Game Three at Fenway. "Some [like Yankees coach Don Zimmer] thought it meant a beanball coming."
Next inning Manny protested a high strike call. As benches cleared, Zim charged Pedro, who, confused by role reversal, threw the ex-Sox manager, 72, to the ground. On air, Sox radio's Jerry Trupiano did a double-take: "Nobody does this, beating up a guy: This can't be happening." Castiglione took a longer view: "Look at Zimmer, Clemens, changing teams: in one fight, the Red Sox-Yankees intersection." New York's 4-3 decision ended with reliever Jeff Nelson and a groundskeeper scuffling in the bullpen. Down 6-4 and in games, 3 to 2, Boston rallied to tie the series, 9-6, Trot Nixon homering in the ninth. "His second of the game!" Joe ooh-ahed. "What a game!" You ain't seen nothing' yet.
The final threatened to cast the Curse in perpetuity. Pedro led, 4-0, then 5-2. In his book, Now I Can Die in Peace, Bill Simmons claims that Theo Epstein and ownership told second-year skipper Grady Little to yank Martinez when he a) threw 100 pitches or b) finished the seventh inning, whichever came first. In the eighth, Pedro yielded another run, had two men on, and looked up to see his skipper. "Let me stay in," said Martinez. "No, out," Little said. "I feel good. I can get through it," Pedro replied, the Sox pen kaput. "OK," Little said, guessing wrong. Two hits tied the score at 5-5. "Here we go again!" Castiglione chorused. Few remember Nixon's, Ortiz's, Kevin Millar's, or Jason Giambi's two homers: only Aaron Boone, past midnight at The Stadium, arcing Wakefield's 11th-inning pitch. "Swing, a long drive to left field! Down the line! Deep toward the corner! If it's fair, it's gone! And it is – gone!" said Joe. "A home run! The New York Yankees have won the pennant!" The Pinstripes' Charlie Steiner bellowed, "And the Yankees are going to the World Series for the 39th time in their remarkable history!" Sox history was remarkable, too, if you could look past the pain.
Regard postseason as a TV cliffhanger – "cliff-dweller," Mets manager Wes Westrum malapropped – like Dallas's "Who Shot J.R.?" Ought-three's seguéd to 2004 like two veins from a common mine. Terry Francona replaced Little as manager. Curt Schilling led the AL in victories (21-6), second in ERA (3.26), and third in innings (226⅔); he and Pedro the first Sox teammates with 200 K's in a year. "We need guys who save runs," said Epstein, trading Nomar Garciaparra for first baseman Doug Mientkiewicz and shortstop Orlando Cabrera. Papi and Manny meant runs: first post-1931 AL mates to tie .300, 30 homers, and 100 RBIs.
By now, Castiglione taught broadcast journalism at Northeastern and Franklin Pierce Universities, was Jimmy Fund charity-club liaison, and grasped retired Jesuit priest Boston College historian John Day terming radio an apostolate to the shut-in, disabled, and elderly. "That showed me I was freeloading for life," he said, writing 2004's Broadcast Rites and Sites, advice for the road. It was not required reading. The October of its release is. Boston swept the Division Series from the Halos. Schilling lost the LCS opener – the Yanks again – 10-7. Next night Pedro pitched, having said, "They beat me. I just tip my hat and call the Yankees my daddy." The Bronx crowd unloosed a Bronx cheer: "Who's Your Daddy?" – Stripes, 3-1. A change of scenery further unhosed the Sox, 19-8, Joe thinking, "The '04 Red Sox are better than this" – just not good enough to pivot a 0-3 game deficit, since no postseason team had.
What happened next helped redeem the past 86 years. Game Four took 5 hours and 2 minutes and had "the single most important steal in Red Sox history," said Castiglione, conceding little competition. In the ninth inning, up, 4-3, reliever Mariano Rivera walked Millar, thrice threw to first base, then tossed outside as the pinch-runner tried to steal. "Here is the throw! Roberts dives, and he is safe!" said Joe. "Stolen base, Dave Roberts the hand tag. Jeter took the throw. It was close – very close at second." Bill Mueller then singled to tie the score. In the 12th, Papi channeled the right-field seats, 6-4. A night later Ortiz's 14th-inning bloop won again, 5-4. "And a little flare, center field!" Trupiano crowed. "Here comes Johnny Damon with the winning run!"
The Townies' history flaunts tales in which the Red Sox have been rich. 1941, Williams' .406 average; 1948, Lou Boudreau, clubbing journeyman Denny Galehouse in the first AL playoff; 1960, The Kid's Final Swing; 1975, Carlton Fisk's Game Six sock hop; 1978, Jim Woods' crying of Bucky Dent, "Suddenly the whole thing is turned around"; 1986, Vin Scully's "under Buckner" call. Few top the Bloody Sock. Doctors had vainly tried to stabilize Schilling's tendon, which kept popping out of place. Before Game Six, team doctor Bill Morgan's new procedure – "three sutures forming a wall to keep it intact" – helped Curt pitch seven innings, his stirrup soaked in blood. In the eighth, up, 4-2, Boston's Bronson Arroyo got tying run Rodriguez to dribble near the mound, tagged him near the line, then had A-Rod dislodge the ball: "It rolls down the right-field line!" said Joe. "Jeter hits third, and he's going to score! A-Rod at second! He should have been out!" It seemed "a mental 'Not another Red Sox tragic moment!'"
Instead, umpire-in-chief Joe West called Rodriguez out! for obstruction, leading bad apples to throw debris, Boston to leave the field, and Big Apple police to wear riot gear. That night, the series tied, Castig previewed his LCS-ending call – "Before, why would I? The Yankees had history on their side." Joe found that Boston's last "significant victory" over them had been in 1904 – "then-Highlander Jack Chesbro's wild pitch scoring Boston's pennant-clinching run" – one hundred years earlier! Since then, the Stripes won every crucial set. Next night Ortiz "hammered a [first-inning] drive deep to right field!" said Joe. "And this ball is gone!" – 2-0. Next inning Damon lined "back toward the corner! [Gary] Sheffield looking up! Grand slam!" He later went deep again. An 8-1 lead gave Joe more time to think. "My call had to mention this unparalleled comeback, and how it beat the Yankees."
Boston's heart of darkness was not so easily assuaged. In suburban Brookline, ex-presidential nominee Michael Dukakis turned to wife Kitty and said, "You know, we could still lose." At almost the same time, he later learned, Lucchino turned to Werner at The Stadium and said, "You know, we could still lose." At 12:01 A.M. October 21, pinch-hitter Ruben Sierra grounded to second base. "Pokey Reese has it!" whooped Castiglione. "He throws to first! And the Red Sox have won the American League pennant [10-3]! Their greatest victory in team history! In the 104 years of the Boston Red Sox, this is the most important of them all" – beating "their archrival. Move over, Babe, the Red Sox are American League champions!" Later, Joe termed his view fact, not opinion, "for without that victory what happened next doesn't happen."
Like the 1963 Dodgers, 1966 Orioles, and 1989 Athletics, the 2004 Red Sox never trailed in the World Series. Still, Joe mocked the thought of letdown, since "beating the Yankees would have meant less if the Sox had lost the Classic" – another what-if. Instead, the Series versus St. Louis scripted what John Henry called "the biggest story in New England since the Revolutionary War." Not wishing to contradict, Castiglione mused, "I think he understates." Unlike the LCS, Boston's 3-0 game edge let Joe anticipate Game Four's finish. This presumed a Series-ending victory, Boston leading, 3-0, in the fifth inning. That morning Castig decided the script must write itself: "I just hoped the final out would be definitive, no checked swing, did he or didn't he trap the ball?" In the seventh inning, he went to a restroom to change, expecting a postgame bath.
By the ninth, Trupiano was in the clubhouse, Joe alone, so focused "I wouldn't have heard a firecracker go off under me." Reliever Keith Foulke got Scott Rolen to fly out and Jim Edmonds to fan, Busch Stadium oozing Red Sox caps and shirts, non-ticket-holders admitted late by gracious ballpark brass. A lunar eclipse hung above the yard – a World Series first. Light bulbs resembled a phalanx of fireflies. Before now, Joe said, his greatest call "hasn't happened yet." It did Wednesday, October 27, at 10:40 P.M. Central Time. "Swing [by Edgar Renteria] and a groundball, stabbed by Foulke! He has it! He underhands to first! And the Red Sox have won baseball's world championship for the first time in 86 years! The Red Sox have won baseball's world championship! Can you believe it?" The question was rhetorical.
"The Boston Red Sox have forever put that 1918 chant to rest as this band of characters who showed great character all season have won the world championship for New England!" said Castiglione, who recited, "And there's pandemonium on the field!" – Martin's 1967 encomium – and Bart Giamatti's essay Green Fields of the Mind: Baseball "breaks your heart. It is designed to break your heart," except that now it sounded, as Fitzgerald wrote, "like a tuning-fork that had been struck upon a star." In 1975 a then-record 124 million people viewed all or part of the Red Sox-Reds World Series. Game Six of the 1986 Mets-Sox fall classic wooed 81 million, still baseball's most-watched-ever match. In our cable-fractured age, the 2004 Townies lured the highest Series audience since 1996. The Boston Globe swelled its daily press run from 500,000 to 1.2 million, selling out. In 1914 British Foreign Minister Sir Edward Grey lamented World War I: "The lamps are going out all over Europe; we shall not see them lit again in our lifetime." New England's lamps went on in late 2001, when new ownership bought the franchise.
The Saturday after the Series a rolling rally of 17 amphibious vehicles began at Fenway, turned onto Boylston Street, then Tremont Street and Storrow Drive, before entering the Charles River. It passed under the Harvard Bridge, a mass above and upon each bank – Boston's largest-ever event wooing three million of the devoted and crazed. Offseason the Red Sox took the Commissioner's World Series trophy to the far outposts of New England and beyond, Castiglione's signet now Can you believe it? In New Haven, Lucchino, the Yale Law alum, asked Joe to repeat it, rapture all around. For the first time since the tank and trench line, Charlie Brown ruled baseball's earth. By phone, mail, in person, and by Internet, the Nation hailed, as fife and drum had at Yorktown, "The World Turned Upside Down." At last Captain Ahab had caught Moby Dick, also hooking the 2007 and 2013 Series. Such a makeover is hard to find.
On Opening Day 2005 in the Fens – Sox 8, Yanks 1 – Castiglione got a World Series ring, each Townie's presented by soldiers wounded in Iraq and Afghanistan. Watching was Joe's son Duke: a New York MY Fox 5 sports anchor and Sports Extra and WWOR MY 9 Yankees postgame host: formerly, WHDH Hub anchor, ESPN SportsCenter and Around the Horn guest host, and Sunday Night Baseball, World Baseball Classic, and WCBS New York reporter. (Joe's and wife Jean's other children were son Tom and daughter Kate.) The '05ers looked to Wakefield: Sox-best in wins, ERA, innings, complete games, and strikeouts. A year later, Schilling got his 200th victory and 3,000th K. "Unbelievable control," said Joe, "could be a prima donna, but ice cold under pressure." An old cigarette ad puffed, "I'd walk a mile for a Camel." Schilling would walk that long for a camera.
Boston won the 2005 wild card, losing the Division Series to Chicago. That offseason they obtained Josh Beckett and Mike Lowell. Reliever Jonathan Papelbon had an 0.92 ERA in 2006. In September a Papi home run broke Jimmie Foxx's 1938 franchise-high 50. "There's a fly ball! Right-center field deep! Back by the bullpen!" said Joe. "And David Ortiz has set a Red Sox record," leading in homers (54) and RBIs (137). The Sox finished a worst-since-1997 third. In 2007, they swept the Division Series against California, edged Cleveland in a taut seven-game LCS, and swept Colorado in the Series. To Joe, 2004 was "for dead relatives and friends who hadn't lived to see a title," many putting balls and caps and pennants on a gravesite, including his brother-in-law on Joe's late dad's. Signs at the rolling rally cited a college mate, Uncle Fred, "You won for my grandma" – catharsis. Ought-seven hailed success. "We were baseball's best team," said Castig, not certain in 2004. Beckett's 20-7 record topped the AL. Japanese pitcher Daisuke Matsuzaka – aka "Dice-K" – finished 15-12. Lowell led in RBIs (120), played a Fort Knox third base, and was a model citizen: to Castiglione, "maybe the most popular Red Sox since Yaz."
Papi had a fifth straight season of at least 31 homers (35) and 101 RBIs (117) or more. Dustin (.317) Pedroia had a dirty uniform by batting practice. The Series was as one-sided as 2004's. In Game Four, Boston's best fireman since Dick Radatz faced Seth Smith in the ninth. "Got him!" Joe said of Papelbon. "The Boston Red Sox become the first team in the [new] century to win two world championships!" The duck boat ride through downtown was as riveting as Boston's .333 Series average, trailing only 1960 New York's record .338. "We won. They lost," Lucchino reminded you – the rivalry still going yard. The Sox stole 96 bases in 120 tries. Jacoby Ellsbury, 23, stole nine in 33 games, hit .353, and was a teenage throb. "Some signs at our rolling rally proposed marriage [to him]," said Joe. Others would once have made mama wash her daughter's mouth out with soap.
Joe would win the Dick Young Award for excellence, enter the Italian-American Sports Hall of Fame, air New England College and Northeastern hoops, and have part of Franklin Pierce's ballpark named in his honor. The New Englander knew that objectivity was in a listener's ears. "We don't openly root, but we pull, for the Sox." The history major knew how they "are a historical team in a region filled with history." Joe knew, as Ronald Reagan said, that if a person hears 15 facts and one story "told well, it's the story he recalls." Daily, people met in Castig's "office" – Fenway – an usher, groundskeeper, vacationer from Canada; a "peanut vendor and a sausage guy across the street." Inside, "fans never see the passageways and shortcuts": grounds equipment behind the Monster, door behind the scoreboard, staircase leading to an interview room, batting cage, or pen. Joe felt Fenway ideal for hide-and-seek – as mysterious as Stephen King and unpredictable as Poe.
Persona helps fill baseball's dead air. A three-hour game may put the ball in play eight minutes. In 1960, another Joe, Garagiola, wrote the seminal Baseball Is a Funny Game. Boston's Joe especially liked to call gotcha on himself. One night 2007-partner Dave O'Brien addressed how Castig was no techie: retexting past messages, an accidental 3 A.M. phone call, a song about Joe somehow appearing on his iPod next to Marvin Gaye's. He liked high-definition TV – assuming he could turn it on. "I could really use a permanent Geek Squad," Joe confessed. "You need a personal assistant," Dave agreed. "That's going to be my Christmas gift for you. A full-time PA." Castiglione: "I'll take it." After commercial break, O'Brien praised his partner's "good-naturedness" about being technically challenged. Joe replied, "I know my limitations." No high-tech could save an especially slow game. "So we've played two really quick innings here," said Castig. Dave: "Yeah, moving right along." Joe: "You were clean shaven when this game began."
No one etched a ball Wallward like Joe, "never knowing if it might scrape the paint coming down." Want a drive to carry? "Pray the wind blows out." Want a fielder disrobed? "Hit to the Triangle." Hope a bouncer over first becomes an inside-the-parker? "You've found the right place." The Wall's "nooks and crannies" – Fenway's "eccentric angularities," said Giamatti – became a sudden magic place when the Sox returned from the road in Sinatra's "wee small hours of the morning." It was empty as Joe "looked out on the field, which was almost mystical. Imagine: a fabled ballpark to yourself: You walk alone up a gangway, view the field lit only by the clock, see lights on Ted Williams Way, and watch Fenway just before dawn – well, it's breathtaking." No Voice equaled Castiglione as New England's personality of baseball in the flesh.
In 2011 Epstein built a "Dream Team" that by September 2 was fully nine games ahead of the Tampa Bay Rays in the American League East. Boston then braved an epochal 7-20 season-ending collapse: a fold worse than any Sox season, including 1978's 3-14 September apocalypse. The Townies blew a last regular-season night playoff spot, then finished last in the next year's 2012 train wreck. Worst to first: Stunningly, the poor-on-paper 2013ers won the franchise's third World Series in a decade. First to worst: The 2014 Sox went down the up staircase, placing last.
Worst to what? A rare 2015 certainty was that the Sox would fete Joe's record 33rd straight season on the air, passing the beloved Martin. Daily Sox co-flagships WEEI and WEEI FM "made sure," said Castig, "you can get us anywhere on the dial." Their eight-state radio network boasted 65 outlets, including 15 in New Hampshire and Massachusetts, 13 in Maine, Vermont 9, Connecticut 5, Rhode Island 1, and New York 6, including most deliciously three in my home of Rochester, Red Sox Nation's westernmost fort save Wyoming's one affiliate: a network among baseball's largest in states and outlets.
From time to time some wonder why the Townies so matter. Tell them to visit New England in the summer before the wind turns harsh and the leaves turn bare and a day matches night's jaw-dropping chill. Read the Boston Globe and Herald. At a diner, hear TV's Don Orsillo and Jerry Remy trade baseball patter. Listen to Joe and Dave O'Brien at an ice cream stand, in a bar, on the street, in a car. On the beach, hear the wireless, as ubiquitous as body oil, ferry a region's game. Have a clergyman ask, "How about those Sawx?" Due largely to Joe Castiglione, you will grasp what the religion of the Red Sox means.
This article originally appeared in "The 1986 Boston Red Sox: There Was More Than Game Six" (SABR, 2016), edited by Bill Nowlin and Leslie Heaphy.
Sources
I am indebted to several sources for the radio play-by-play and analysis contained herein: WEEI Radio executive sports producer Jon Albanese; noted major-league archivist John Miley; and Tom Shaer, former WITS Boston wireless reporter, now head, Tom Shaer Media in Chicago. Virtually all other material, including quotes, is derived from my books America's Dizzy Dean (St. Louis: The Bethany Press, 1978); Voices of The Game: The Acclaimed Chronicle of Baseball Radio & Television Broadcasting – From 1921 to the Present (New York: Simon & Schuster, 1992); The Storytellers: From Mel Allen to Bob Costas: Sixty Years of Baseball Tales from the Broadcast Booth (New York: Macmillan,1995); Of Mikes and Men: From Ray Scott to Curt Gowdy: Broadcast Tales from the Pro Football Booth (South Bend, Indiana: Diamond Communications, 1998); Our House: A Tribute to Fenway Park (Chicago: NTC/Contemporary, 1999); Voices of Summer: Ranking Baseball's 101 All-Time Best Announcers (New York: Carroll & Graf, 2005); The Voice: Mel Allen's Untold Story (Guilford, Connecticut: The Lyons Press, 2007); A Talk in the Park: Nine Decades of Baseball Tales from the Broadcast Booth (Washington D.C.: Potomac Books, 2011); and Mercy! A Celebration of Fenway Park's Centennial Told Through Red Sox Radio and TV (Potomac Books: Washington, D.C.: Potomac Books, 2012).
If you can help us improve this player's biography, contact us.
http://sabr.org/sites/default/files/CastiglioneJoe.png
600
800
admin
/wp-content/uploads/2020/02/sabr_logo.png
admin
2015-03-02 01:14:38
2021-01-07 13:17:15
Joe Castiglione