This Week in SABR: October 9, 2020
Welcome to "This Week in SABR!" Click here to view this week's newsletter on the web. Here's what we've been up to as of October 9, 2020:
---
SABR is pleased to welcome Chanel Zapata as its new Community Engagement Manager. In this role, which begins on October 12 and is based at the SABR office in Phoenix, Arizona, she will lead SABR's membership service efforts, including new member on-boarding, membership transactions, and chapter and research committee support.
Zapata joins SABR after spending two years working at the Minor League Baseball headquarters in St. Petersburg, Florida, where she focused on multicultural marketing, spearheading the Hispanic, Latino/a and Latinx fan engagement initiative Copa de la Diversión. She also supported programs that reached out to the LGBTQ+ community and individuals with intellectual or developmental disabilities. Zapata has also worked with Baloncesto Superior Nacional (Puerto Rico), the Burlington Royals, the New York Yankees, and Puerto Rico F.C. She was born and raised in San Juan, Puerto Rico, and graduated from the University of Tampa with a bachelor's degree in Sport Management and from Arizona State University with a master's degree in Sport Law & Business.
---
Members like you are helping us turn our shared vision into a reality. As 2020 draws to a close, we hope you will renew and, if your means allow, even increase your support for SABR's mission.
You can join SABR's Golden Lineup by making a gift of at least $100 by December 31, 2020. We will use your best gift of $100, $250, $500, or $1,000 to bring more young people into the beautiful world of baseball; to publish groundbreaking books and articles; and to promote research, preservation, and scholarship.
All donors joining the Golden Lineup with a $100 gift or more will receive a copy of From Rube to Robinson, our anthology of research celebrating the centennial anniversary of the Negro Leagues.
Donors supporting SABR with a gift of $500 or more will also receive a miniature Rawlings Gold Glove Award replica and be entered to win the SABR Golden Ticket.
The winner of the SABR Golden Ticket will receive:
Lifetime membership to SABR
All expenses paid to a SABR conference of their choice
Attend the 2021 Rawlings Gold Glove Award Banquet in New York City
Visit SABR.org/donate/2020 to learn more.
---
In his first World Series for the St. Louis Cardinals in 1964, Bob Gibson was running on fumes by the end of Game Seven. Just two days earlier, he had pitched a 10-inning complete game against the mighty New York Yankees and said he felt like he had come out of a 10-round boxing match afterward. Manager Johnny Keane handed his ace the ball again for the winner-take-all finale.
An exhausted Gibson allowed two home runs in the ninth inning, but Keane's faith was rewarded when he induced New York's Bobby Richardson to pop out and clinch the Cardinals' World Series championship with a 7-5 victory. Gibson was named the Series MVP. When Keane was asked why he left Gibson in even though his starter was clearly tiring near the end, the manager replied, "I was committed to this fellow's heart."
Gibson, who died of pancreatic cancer at the age of 84 on October 2, showed as much heart as any pitcher of his generation over a stellar 17-year career in St. Louis, leading the Cardinals to three World Series in five years, including another title (and another World Series MVP award) in 1967, setting a live-ball-era record with an eye-popping 1.12 ERA in 1968, throwing a no-hitter in 1971, and becoming the first National League pitcher to reach the 3,000-strikeout plateau. It all added up to a spot in the Baseball Hall of Fame in 1981, his first year of eligibility.
Click here to read the full tribute at SABR.org.
Related links:
---
A new publication produced by SABR's Baseball and the Arts Committee vividly brings to life the art and literature of the game we all love:
Turnstyle: The SABR Journal of Baseball Arts, Volume 2 (2020)
Edited by Joanne Hulbert and Jay Hurd
ISBN (e-book): 978-1-9701-5944-8, $5.99
ISBN (paperback): 978-1-9701-5945-5, $9.95
6″ x 9″, 117 pages

Click here for the full description of this journal at SABR.org.
SABR members, get this e-book for FREE!
Click here to download or purchase a copy of Turnstyle, Volume 1 (2019).
---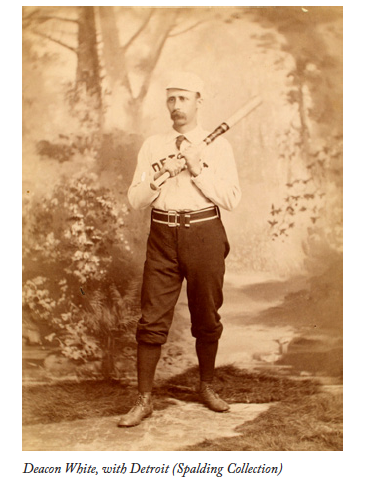 A monument honoring Baseball Hall of Famer James "Deacon" White and his ballplaying family will be dedicated at 2:00 p.m. EDT on Saturday, October 10 at Margaret E. Smyers Memorial Park in Caton, New York.
The monument, organized by SABR members Joe Williams and David Stalker, honors Caton native Deacon White — who was honored as SABR's Overlooked 19th Century Legend in 2010 and inducted into the National Baseball Hall of Fame in 2013 — and his brothers LeRoy White and Will White, and their cousin Elmer White.
Deacon White's pioneering baseball career spanned the end of the amateur era and the start of professionalism, the establishment and demise of the National Association, the founding of the National League, and a players' revolt that led to the creation of the Players' League in 1890.
Click here to read the full announcement at SABR.org.
---
SABR chapters and committees are encouraged to set up virtual meetings to stay engaged with our members throughout the world at SABR.org, as part of our Stay Home With SABR initiative to assist in limiting the spread of the COVID-19 coronavirus pandemic.
This week, we heard from Ted Knorr on Negro Leagues great Rap Dixon, How Baseball Happened author Thomas W. Gilbert joined the Pandemic Baseball Book Club for a chat, and the Baseball Reminiscence chartered community held an introductory meeting.
Here are some more upcoming virtual events you can attend online; check the Events Calendar for complete details:
October 10: Pee Wee Reese (Ky.) Chapter meeting with Howard Kellman (11:00 a.m. EDT)
October 10: Baseball Heritage Museum talk with Vince Guerrieri (12:00 p.m. EDT)
October 10: SABR Board of Directors conference call (2:00 p.m. EDT)
October 12: Bob Broeg St. Louis Chapter meeting with Bob Schron (6:30 p.m. CDT)
October 12: Halsey Hall (Minn.) Chapter Research Committee meeting (7:00 p.m. CDT)
October 13: 19th Century Committee Speaker Series with Jon Popovich (8:00 p.m. EDT)
October 14: Baltimore Babe Ruth Chapter meeting with Jerry Amernic (7:30 p.m. EDT)
October 15: Boston Chapter meeting with Luis Tiant and Saul Wisnia (7:00 p.m. EDT)
October 17: NW Ohio Chapter book club meeting with David Fleitz (9:00 a.m. EDT)
October 17: Cool Papa Bell Chapter (Miss.) meeting with Bill Nowlin (12:00 p.m. CDT)
October 17: Rogers Hornsby Chapter (Texas) meeting with Bill Brown (1:00 p.m. CDT)
October 19: Larry Dierker Chapter (Texas) meeting with Bill Nowlin (7:00 p.m. CDT)
October 20: Central Florida Chapter meeting with Victor Rojas (7:00 p.m. EDT)
October 21: Baltimore Babe Ruth Chapter meeting with Adam Korengold (12:00 p.m. EDT)
October 21: Rocky Mountain Chapter meeting (12:30 p.m. MDT)
Find more upcoming virtual meetings on our SABR Events Calendar page.
Click here to view replays of any SABR virtual event in 2020.
---
Add a new baseball book to your collection from the SABR Digital Library:
Baseball's Biggest Blowout Games
Edited by Bill Nowlin
Associate editors: Len Levin and Carl Riechers
ISBN (paperback): 978-1-9701-5943-1, $24.95
ISBN (ebook): 978-1-9701-5942-4, $9.99
8.5″ x 11″, 396 pages

Click here to read the full description at SABR.org.
SABR members, get this e-book for FREE!
Having trouble downloading our e-books? To view PDF files on your computer, click here to download the free Adobe Reader software. Having trouble downloading e-books to your Kindle, Nook, Sony Reader or iPad? Click here for additional help.
SABR members can download all of our Digital Library e-books for free or get 50% off the paperback edition. Find all past titles at SABR.org/ebooks.
---
The SABR office, housed at Arizona State University's Walter Cronkite School of Journalism and Mass Communication in Phoenix, Arizona, has been closed indefinitely due to the ongoing coronavirus (COVID-19) situation. Staff members will work remotely until it is advisable to resume normal operations on-site.
Please contact a member of the SABR staff by email or phone with any questions.
---
Baseball fans, tune in this season to SABRcast with Rob Neyer, a weekly podcast hosted by award-winning author and longtime SABR member Rob Neyer.
Episode #80 on Monday, October 2 featured Josh Schaub, a sports law attorney at Gutwein Law in Minneapolis, where he focuses on general corporate, fundraising, and international sports and entertainment law, and commissioner of the independent American Association. He also serves as commissioner of the Major Arena Soccer League. He is a former CEO/Co-Owner of the Frontier League's Joliet Slammers and an Associate Scout with the Milwaukee Brewers.
Visit SABR.org/sabrcast to listen to the full episode.
Subscribe to SABRcast on your favorite podcast networks, including Apple Podcasts, Spotify, Stitcher, or Google Play, and listen to each episode as soon as it's released on Mondays. To learn more, visit SABR.org/sabrcast.
---
Nine new biographies were posted this week as part of the SABR Baseball Biography Project. Here are the new bios published this week:
All new biographies can be found here: SABR.org/bioproject
Find any SABR biography: You can visit sabr.org/bioproject to search for any player — or manager, executive, scout, spouse, broadcaster, or umpire — who appears in the SABR BioProject. In addition, we have pages for Ballparks, Broadcasters, Executives, Games, Managers, Scouts, Spouses, Umpires, Writers, people who were Famous Outside Baseball, and a lot more.
Sign up to view Trello submission pipeline: Chief Editor Rory Costello has made the BioProject submission pipeline visible to project contributors using the signboard app Trello. If you would like to see the pipeline — to know where your story stands in the review process or how many articles we have in the system — e-mail Rory for an invitation to become an observer.
---
In SABR's Kansas City Royals: A Royal Tradition (2019), edited by Bill Nowlin, we captured the stories some of the greatest figures in Royals history — from George Brett, Frank White, and Dan Quisenberry to Dick Howser, Johnny Damon, and Bo Jackson — and took baseball fans through some of the most memorable moments since the team's inaugural season in 1969.
You can now read all of the biographies that appeared in our Kansas City Royals 50th anniversary book at the SABR BioProject:
https://sabr.org/bioproj/category/completed-book-projects/kansas-city-royals-50th-anniversary/
SABR members can download Kansas City Royals: A Royal Tradition as a free e-book or get 50% off their purchase of the paperback edition at SABR.org/ebooks.
---
Thirty-one new game stories were posted this week as part of the SABR Games Project. Many of these articles are from our recent SABR Digital Library books commemorating the 50th anniversaries of the San Diego Padres and Kansas City Royals franchises. Here are the new game stories:
New Games Project stories can be found at SABR.org/gamesproject.
Get involved: Have memories of a game you attended? Or a game you watched that caught your interest? Write about it! Writing for the Games Project is an easy way to get involved as a SABR member. Find out how by reading the Games Project FAQs section or checking out the Authors' Guidelines. We have editors and fact checkers who are willing to help you write your first article.
---
Behind the Numbers: Baseball SABR Style on SiriusXM, a radio show hosted by former SABR Board President Vince Gennaro, is back at a new time. Listen to new episodes at 5:00-6:00 p.m. ET on Saturdays on MLB Network Radio.
You can also listen to archives of recent episodes on-demand on the SiriusXM Internet Radio app.
Behind the Numbers: Baseball SABR Style on SiriusXM focuses on examining and interpreting the statistical analysis that plays a critical role in baseball today. It airs weekly throughout the year on MLB Network Radio, available to subscribers nationwide on XM channel 89, Sirius channel 209, and on the SiriusXM Internet Radio App.
---
Here are some major headlines from recent weeks that we don't want you to miss:
All previous editions of This Week in SABR can be found here: https://sabr.org/content/this-week-in-sabr-archives.
---
We'd like to welcome all of our new SABR members who have joined this week. You can find all Members-Only resources at members.sabr.org and the Membership Handbook can be downloaded here.
Please give these new members a warm welcome and help them make the most of their membership by giving them the opportunity to get involved in their local chapter or a research committee.
You can find contact information for any SABR member in the online Membership Directory.
| Name | Hometown |   |   | Name | Hometown |
| --- | --- | --- | --- | --- | --- |
| Brian Bennett | Katy, TX | | | Kelvin Johnson | Sicklerville, NJ |
| James Bouffard | Gansevoort, NY | | | Robert Morris | Lakehurst, NJ |
| Frank Bruni | Westchester, CA | | | Tomohiko Oda | Tokyo, JPN |
| Jeff Carter | Downey, CA | | | Takuya Okamoto | Tokyo, JPN |
| Janira Clark | Evanston, IL | | | Gary Pomerenke | Seward, NE |
| Frederick Drew | Douglaston, NY | | | Juan Jose Sanchez | Mexico City, MEX |
| Ellen Duernberger | Seattle, WA | | | Paul Sinclair | Toronto, ON |
| Patten Fuqua | Antioch, TN | | | Nathan Solomon | Freeville, NY |
---
Here are the new research committee updates this week:
Games Project: Please give a warm welcome to John Fredland as the new chair of the Games Project committee. He replaces Mike Huber, who has served in the role since 2018. Mike's leadership and energy, along with the rest of the leadership team of Steven C. Weiner, Bruce Slutsky, Len Levin, and Laura H. Peebles, have helped transform the Games Project and made it one of SABR's most productive and popular initiatives. To learn more about the Games Project or to get involved as a writer, editor, or project leader, visit SABR.org/gamesproject. 
Find all SABR research committee newsletters at SABR.org/research/committees.
---
Here are the new regional chapter updates this week:
Visit SABR.org/chapters for more information on SABR regional chapters.
---
Scroll up to the top of this newsletter to learn more about the upcoming virtual events on the SABR calendar. In addition, the following in-person events are scheduled:
We strongly recommend that all SABR chapters follow CDC public health guidelines and your local/state government regulations when scheduling any in-person meetings and events.
Find details on all upcoming meetings on our SABR Events Calendar page.
---
Here are some recent articles published by and about SABR members:
Please note: Some articles may require a separate subscription to view online. SABR does not endorse, and is not responsible or liable for, any content that appears on a third-party website.
---
This Week in SABR is compiled by Jacob Pomrenke. If you would like us to include an upcoming event, article or any other information in "This Week in SABR," e-mail jpomrenke@sabr.org.
Have trouble reading this e-mail? Click here to view this week's newsletter on the web.
Are you receiving our e-mails? "This Week in SABR" goes out by e-mail to all members on Friday afternoons. If they're not showing up, try adding "sabr.notes@sabr.org" to your contact list to ensure they show up in your inbox (and not the spam folder.)
---
Originally published: October 9, 2020. Last Updated: October 9, 2020.
https://sabr.org/wp-content/uploads/2020/06/SABR-LatestNews-TWIS-2016.jpg
250
847
sabr
/wp-content/uploads/2020/02/sabr_logo.png
sabr
2020-10-09 13:34:24
2020-10-09 13:48:03
This Week in SABR: October 9, 2020